Improve
patient satisfaction

with HappyOrNot's healthcare customer feedback system
Monitor patient satisfaction and quality of care with our intuitive and easy to use feedback system. Gather direct patient feedback with our instant surveys and gain valuable insights into their experience to secure high patient satisfaction scores.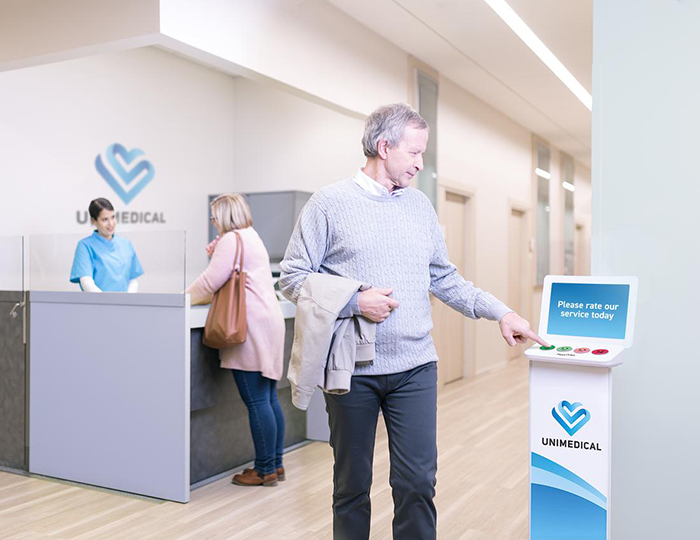 What is a healthcare
customer feedback

platform?

A healthcare customer feedback platform is invaluable for assessing patient satisfaction and measuring the quality of care provided by healthcare services. By utilizing instant patient satisfaction surveys, healthcare organizations can gather real-time patient feedback and gain insights into their experiences.  

These survey responses are collected and analyzed to measure patient satisfaction scores, identify areas for improvement, and enhance the overall patient experience. The data collected allows the healthcare industry to benchmark performance and drive quality improvement initiatives. 
How is
patient satisfaction

monitoring used?

Patient satisfaction monitoring plays a crucial role in healthcare business, market share and funding. By actively listening to patients' perspectives and addressing their concerns, healthcare providers can foster effective communication, improve job satisfaction among staff, and attract new patients.  

Publicly reported survey results, such as those conducted by the Hospital Consumer Assessment of Healthcare Providers and Systems (HCAHPS), also contribute to accountability and transparency within the healthcare industry.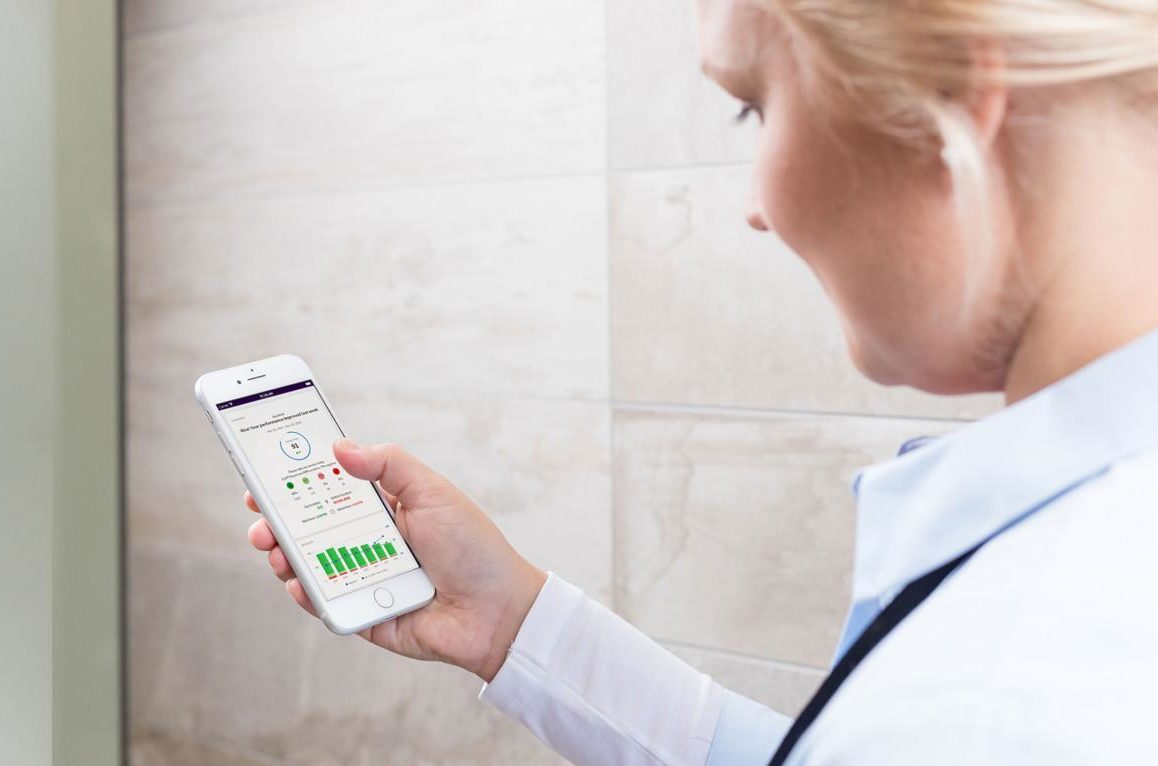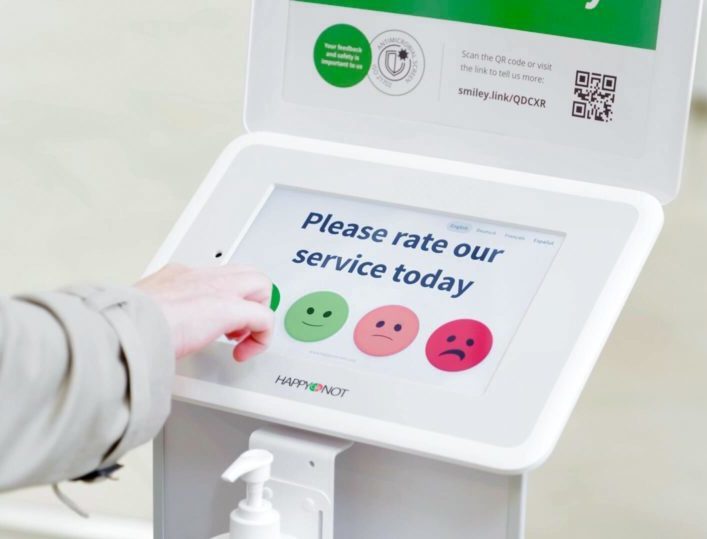 What is the best
healthcare satisfaction

survey tool?

When selecting the best hospital patient satisfaction survey tool, HappyOrNot is a top choice. These user-friendly and innovative Smiley face feedback terminals provide a seamless and efficient way to assess patient satisfaction in healthcare settings.  

With a portable and versatile design, HappyOrNot's physical Smiley Touch and Smiley Terminal kiosks and online Smiley Digital can be strategically placed throughout hospitals, clinics, websites, and other healthcare facilities, ensuring easy access and maximizing survey responses exactly when and where the experience happens.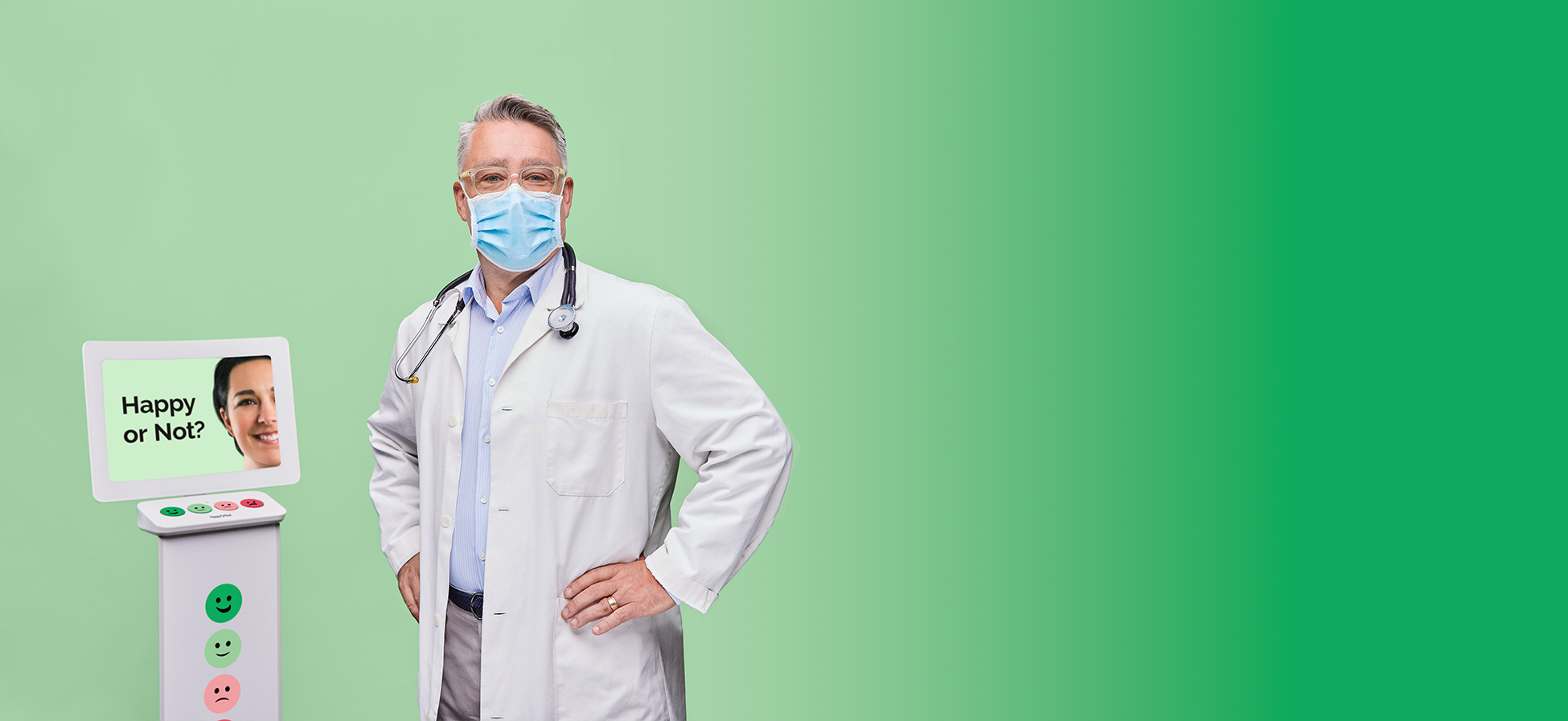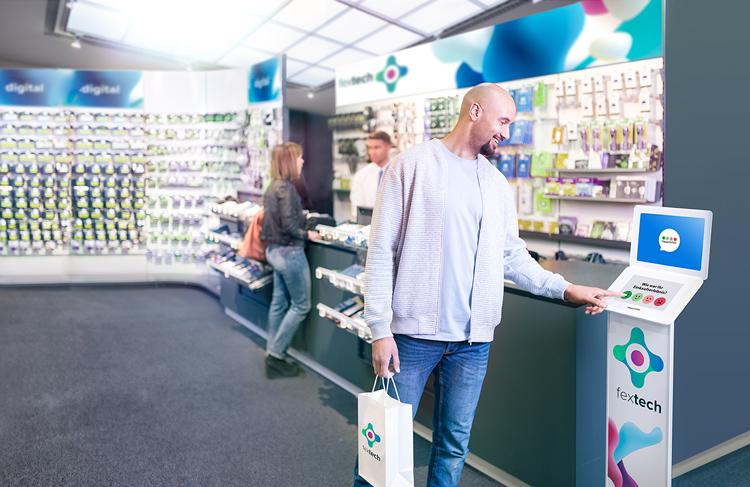 Measure and improve your healthcare operations
HappyOrNot helps you optimize resources and deliver memorable experiences across multiple locations. Capture positive and negative feedback from your clients and join over 4,000 brands using HappyOrNot's real-time customer feedback solutions to establish lasting relationships and build loyalty.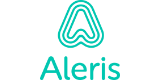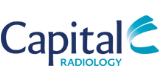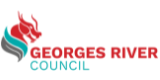 How HappyOrNot helps healthcare providers to increase patient satisfaction 
HappyOrNot's simple and intuitive system for collecting feedback helps healthcare providers to shift towards a patient-centered approach that prioritizes the holistic view of patients' needs and preferences. By incorporating patient perspectives into decision-making processes, involving them in care planning, and personalizing their healthcare experience healthcare providers can effectively increase patient satisfaction scores. 

Enhance patient communication
Establish clear and effective communication channels with patients to ensure their needs and concerns are heard and addressed promptly. Regularly update patients about their health plans, treatment options, and any changes in their care.

Implement improvement initiatives
Continuously evaluate and improve the quality of healthcare services through improvement programs. Collect feedback through healthcare surveys and use data to identify areas for improvement and implement evidence-based practices.

Streamline access & waiting times
Optimize appointment scheduling systems, reduce wait times, and enhance the overall patient experience by offering convenient and timely access to healthcare services.

Give staff training and support
Provide ongoing training and support to healthcare staff to ensure they have the necessary skills and knowledge to deliver quality healthcare, communicate compassionately, and provide human services prioritizing patient satisfaction.
Better patient experience =
higher satisfaction scores
The HappyOrNot feedback system has been proven to be an effective tool to improve patient satisfaction in the healthcare industry, helping reduce unhappy customers by 30% in the first year alone. 
Healthcare providers can use the instant patient feedback to identify and fix daily challenges, attract the best professionals, engage staff with measurable goals, increase patient loyalty, earn new patients, and secure service renewals and funding.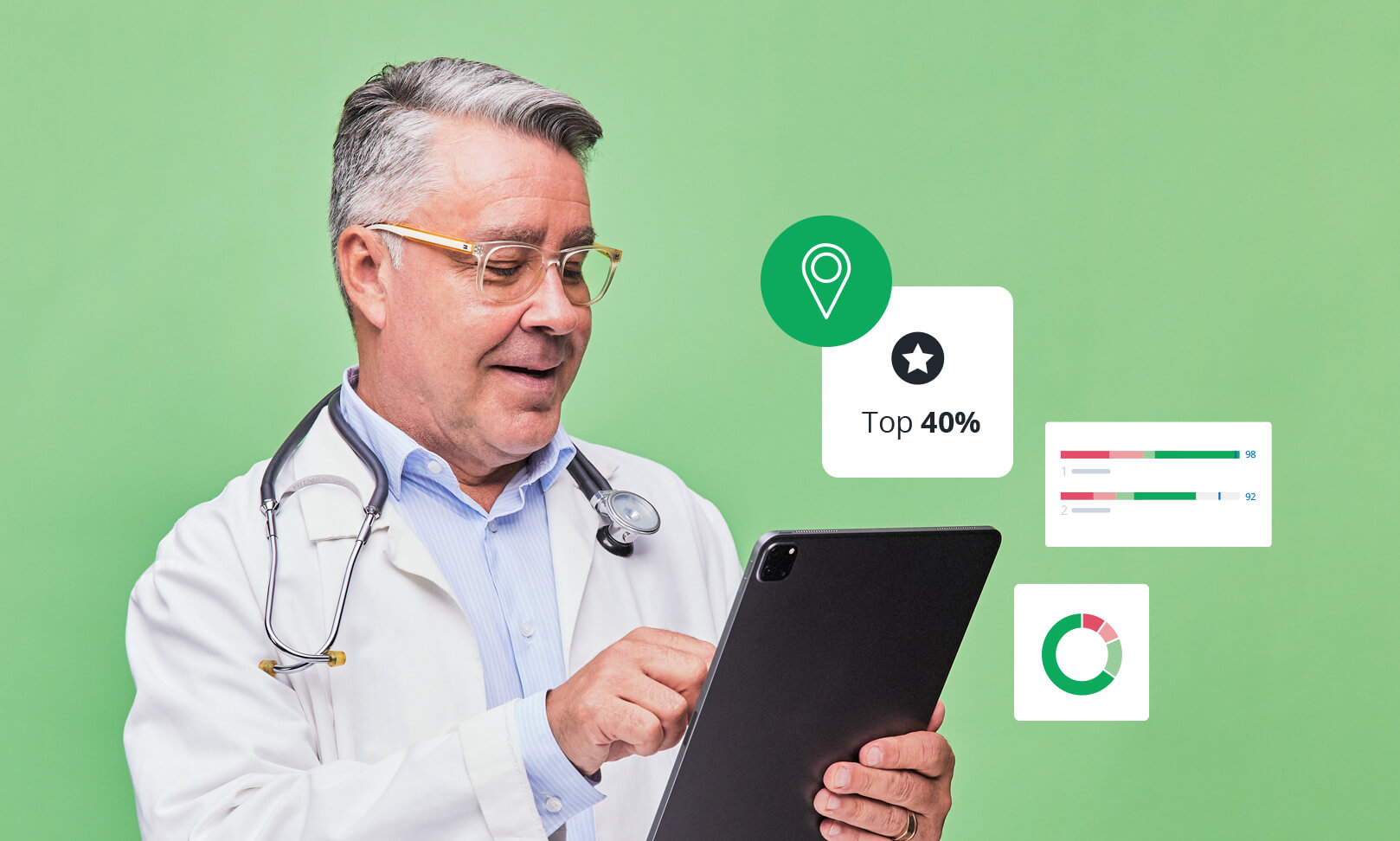 Patient experience success stories  
Our case studies demonstrate how HappyOrNot's feedback software and online survey tools have helped healthcare businesses collect and review valuable feedback, make data-driven decisions, and stay ahead of the competition in a demanding business space.   
Keep your patients coming back
Transform your healthcare business with real-time surveys and collect patient insights from intuitive responses they can leave with one click of a button and keep your feedback loop going.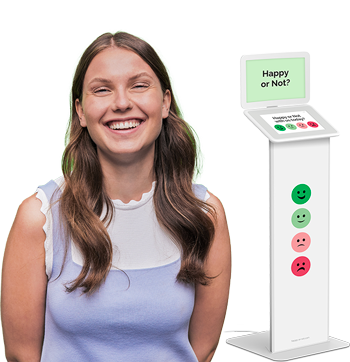 Frequently Asked Questions
Can a healthcare customer feedback platform survey patients directly?
How is patient satisfaction monitoring conducted?
Are survey results publicly reported?
What is the role of HappyOrNot terminals in patient satisfaction surveys?
How can healthcare providers improve customer satisfaction?
How to use patient satisfaction surveys?