Eliminate blind spots and develop your operations
Does this sound familiar?
I can't capture enough continuous feedback
It's impossible to find out the root causes of service issues
It's not clear how to take action on the feedback data
Smiley Touch is the easiest, most engaging way to collect instant customer feedback and find out why people buy or do not buy from you. Understand what works, and what doesn't, to improve the customer experience and transform your business.
Collect instant, relevant data
The key to making the right decisions for your business is in the ability to collect trustworthy, relevant data. Here's what makes our Smiley Touch unique:

High response rates
Get lots of rich, continuous feedback without friction

In-the-moment feedback
Get feedback exactly when and where the experience happens

Understand reasons
Get to the root of the matter with follow-ups and open comments
Connect to target audience
Connect feedback data with demographic information to focus on feedback from your target audience
Comes with Analytics
Smiley Touch includes our easy-to-use, Analytics software that lets you understand the reasons behind customer feedback and the needed focus areas to improve operations.
Get a continuous flow of learnings on your performance that your team can easily follow and apply.
Get started
HappyOrNot provides customer feedback insights as a service based on subscription. We offer value-based expertise and consultancy to ensure you get the right solution fit for your unique needs. Collect high-volume, relevant feedback and make data-driven decisions!
Smiley Touch™
Find the perfect fit
We offer three different versions to suit your needs: Stand with branding and customization options and a removable question sign, the versatile Table for receptions, service desks, fairs, and mobile use, and Wall that can be placed at any height, for example, low for accessibility needs. Our experts help you discover which version works best for your business needs.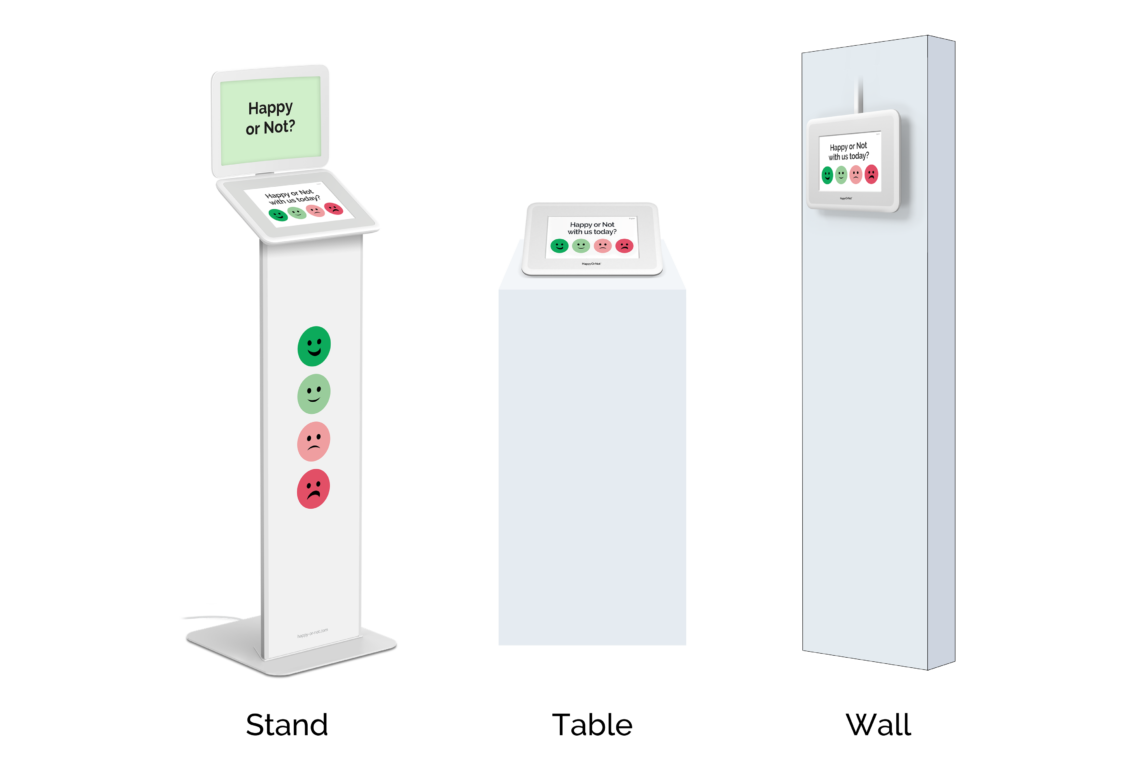 Try our Smileys out!
Curious how they work? Take them for a test drive.