Focus on impactful changes
Making impactful changes in your operations is only possible when you understand what your customers want and need throughout their customer journey. Customer feedback helps you eliminate blind spots and revenue leakage, and develop more efficient operations for increased profitability.
Happy customers, better business
Transforming your business should be easy. Listen to your customer expectations and feedback continuously with our Smiley face feedback solution and you will know exactly when, where, and what to act on. Also, you can rely on our team of experts to help you get the most out of our solution, like guidance on the right questions to ask, using the feedback data, and more.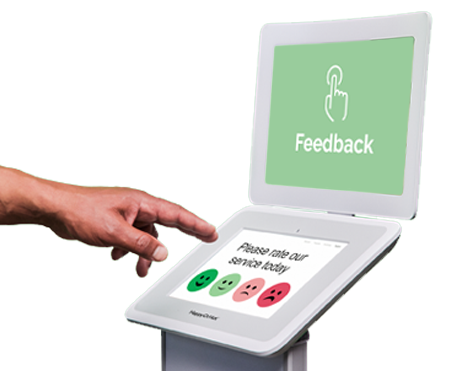 Get loads of feedback with Smileys
Whether your focus is in-store, online, or both, our Smileys capture maximum in-moment feedback from your customers. Gain a 360 view of your customer satisfaction performance in all operational environments.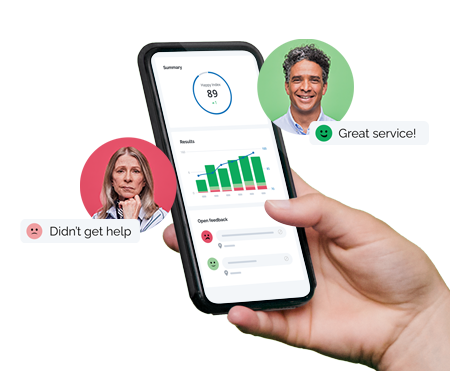 Know how you perform with Analytics
Analyze customer feedback connected to the exact time and place of experience. Find patterns, share insights, and engage your team. Learn where and how to improve to keep your customers loyal and your competitors at bay!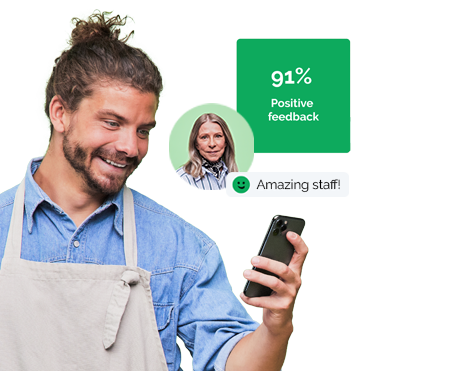 Take action, improve, repeat
Make informed decisions based on data and tackle issues where it matters most. Test and validate improvement actions, and continuously optimize your operations for higher customer life-time value and increased profitability.
Why our customers love us
Our clients' success is our top priority at HappyOrNot. We strive to provide innovative solutions to measure customer satisfaction and employee engagement in a timely manner, resulting in increased revenue and business growth. But don't just take our word for it. Read what our satisfied customers have to say about their customer experience with HappyOrNot customer service software. 
"It's critical to listen to what your customers are telling you. Some are going to tell you what you're doing wrong and some are going to tell you what you're doing right, and it's important to gauge both the positives and negatives and set your course from there."
Randy Lambert
Director of Stores,
Shoe Station Inc
"It was the level of analytics and reporting we were able to pull out of the HappyOrNot system and being able to drill down to see customer satisfaction at a moment in time that made HappyOrNot the obvious choice. Because HappyOrNot is best in their class, Blue Water is best in its class."
Todd Burbage
CEO,
Blue Water Development Corp
"One of these opportunities is using HappyOrNot to help us achieve that next level with patient-centered medical home (PCMH) services, an organization and governing entity that ensures Knox is meeting the model's results expectations and that patients are being serviced properly,"
Carson O'Neill
Operations Coordinator of Physician Services,
Knox Community Hospital
HappyOrNot Smileys
HappyOrNot offers a range of feedback terminals to cater to various business needs and customer preferences. Whether you need to capture feedback online, in-location, or both, we have the best customer feedback tools for you. Our terminals are designed to be intuitive, easy to use, and customizable to ensure maximum coverage and accurate data collection. Explore our range of Smiley products and find the perfect feedback management solution to improve your customer and employee satisfaction.
HappyOrNot customer feedback solution across industries
HappyOrNot's innovative feedback solutions can be applied across various industries, including retail, healthcare, and services. Each industry has unique needs and challenges, so we provide customizable customer satisfaction surveys and data reporting to fit specific business operations. Discover how HappyOrNot can help you increase customer satisfaction levels, and drive business growth, no matter your industry. 
Recent posts
Stay up to date on the latest trends and customer insights with HappyOrNot's blog. Our team of experts provides valuable information and practical tips to help businesses improve their operations and drive growth by building an audience of loyal customers. From case studies to industry news, our blog offers a wealth of knowledge to help you succeed in today's competitive market. 
Frequently Asked Questions
What are the key features of HappyOrNot solutions?
How can HappyOrNot's guest feedback solutions help improve customer satisfaction and drive business growth?
How does the HappyOrNot customer satisfaction solution differ from traditional methods of collecting user feedback?
How can businesses effectively implement the HappyOrNot customer feedback tool in various industries?
How does HappyOrNot ensure the accuracy and reliability of the data collected through its customer satisfaction solutions?