One second surveys
Let your customers instantly share their feedback with a simple press of a Smiley face feedback button. Know exactly when and where the feedback was given in all your busy locations.
Eliminate blind spots, discover the most burning issues, and implement best practices to improve customer experience and develop your operations.
Fun and easy feedback to measure customer satisfaction
Our Smiley feedback buttons are intuitive and quick to tap as you walk by. Capture the maximum amount of feedback from visitors and passers-by at busy sites. Here's what makes our Smiley Terminal unique:

Maximum response rates
Quick, single touch, anonymous feedback.

Completely wireless
Place it anywhere without annoying cables.

Ready to use in minutes
Quick to assemble and activate.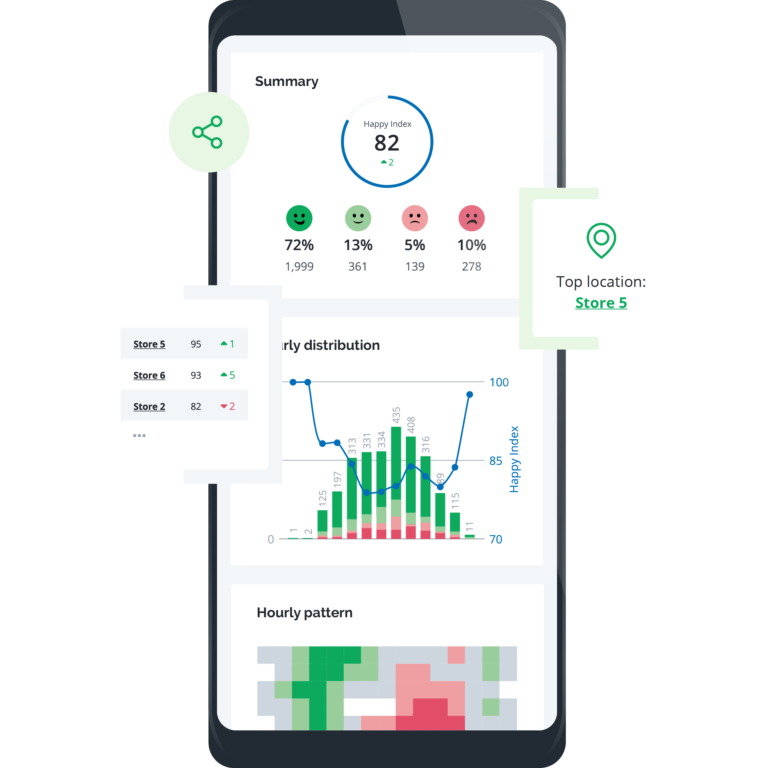 Comes with Analytics
Smiley Terminal includes our easy-to-use Analytics software that lets you know exactly when and where your customers are happy or not to keep your business expanding.
Get a continuous learning flow on your performance that your team can easily follow and apply.
Smiley Terminal™
Get a perfect fit
We offer five different versions to suit your needs:
Stand is customizable and wireless, allowing you to place anywhere, save power, and showcase your brand with ease.
Table is perfect for receptions, service desks, fairs, and checkouts.
Mini is the most compact for tight, but important, spaces.
Rail is ideal for high-traffic areas, trains, and busses.
Wall is a simple peel-and-stick and can be placed at any height, for example, low for accessibility needs.
No matter what you require, we have a version that will work for you!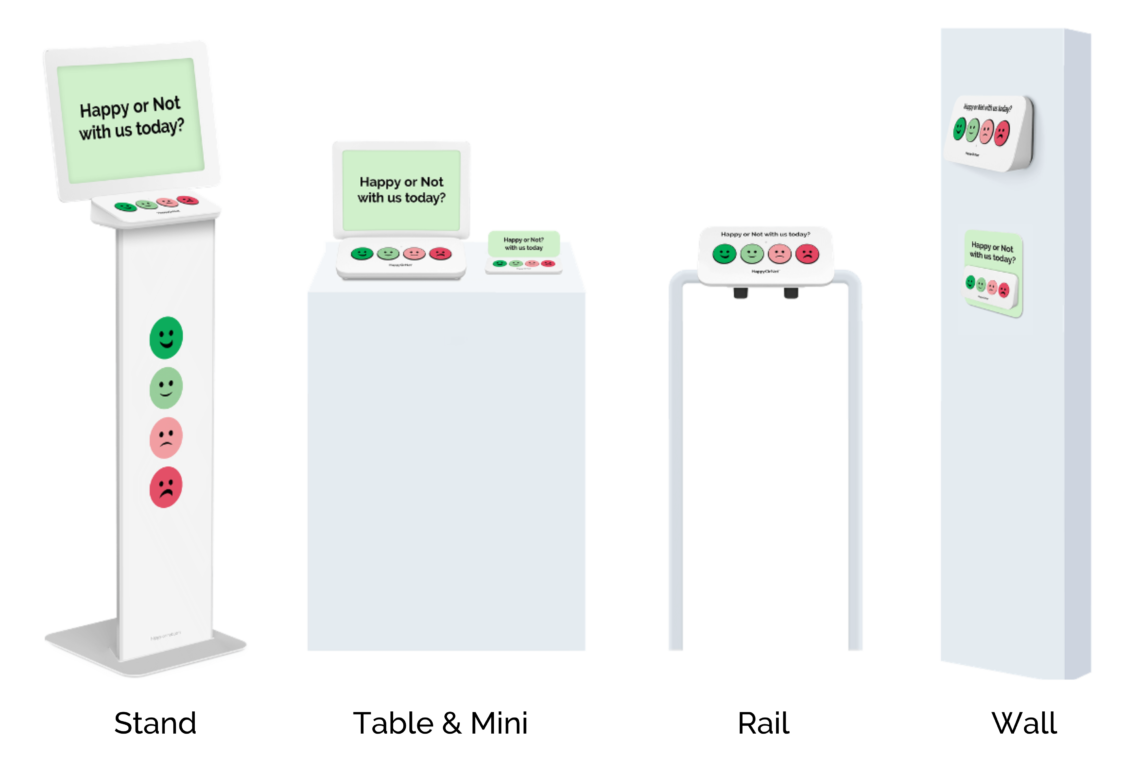 Try our Smileys out!
Are you wondering how they work and what they can do for your business? Take them for a test drive and witness their impact. Our Smileys are just the beginning. With HappyOrNot, you can access a comprehensive suite of tools and features to elevate your customer experience.
Want even more from your customer feedback?
We offer a range of innovative Smiley face rating terminals designed to help businesses of all sizes and industries measure satisfaction and improve overall business growth. From our sleek and modern touchscreen kiosks, to digital Smileys and our compact terminals, we have a solution for every business need. Find the perfect Smiley for your business, and start collecting valuable customer feedback today.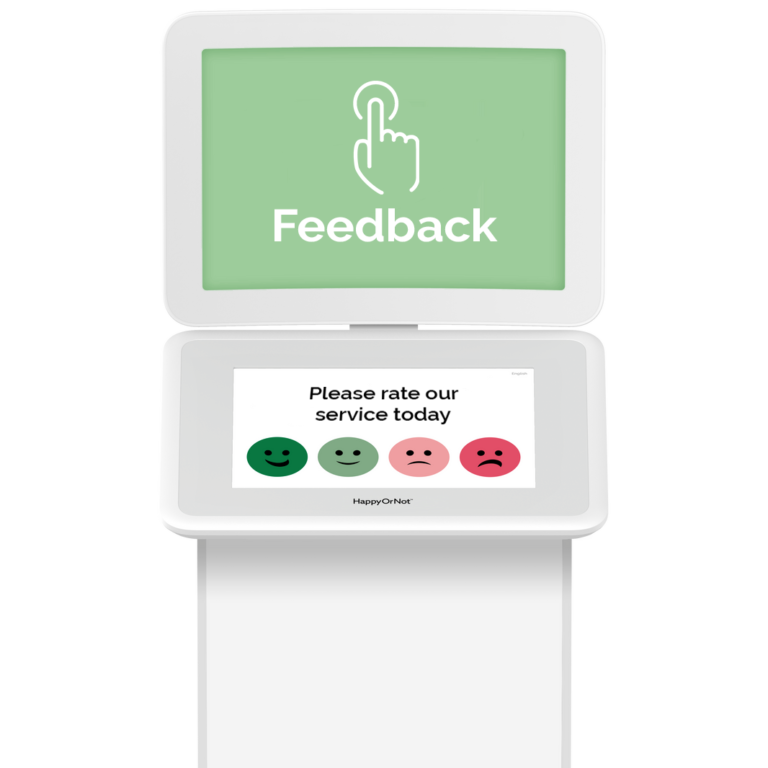 Discover the "why" behind feedback and understand the causes of satisfaction or dissatisfaction. Learn more
Deliver the same service levels online as in location to align satisfaction across all channels. Learn more
Get started
HappyOrNot provides customer feedback insights as a service based on subscription. We offer value-based expertise and consultancy to ensure you get the right solution fit for your unique needs. Collect high-volume, relevant feedback and make data-driven decisions!
Hear from our customers
Our mission is to help businesses and organizations on global markets understand their customers and employees better by collecting and analyzing real-time feedback. With our innovative solutions, we provide valuable insights that enable them to make data-driven decisions and improve their services.
View All
Frequently Asked Questions
What is a Smiley Terminal?
How does a Smiley Terminal work?
What are the benefits of using a Smiley Terminal for businesses?
Can a Smiley Terminal be customized to fit the branding of a business?
How are the Smiley kiosk results collected and analyzed?
Is it possible to integrate the Smiley Terminal data with other business systems?
What types of businesses can benefit from using a Smiley Terminal?
What is the pricing structure for a Smiley Terminal?
What type of support is available for customers using a Smiley Terminal?