Increase sales


for your automotive dealership
Capture real-time feedback and get valuable insights to improve customer satisfaction and optimize your business toward high-cost purchases and increase the lifetime value of service and sales.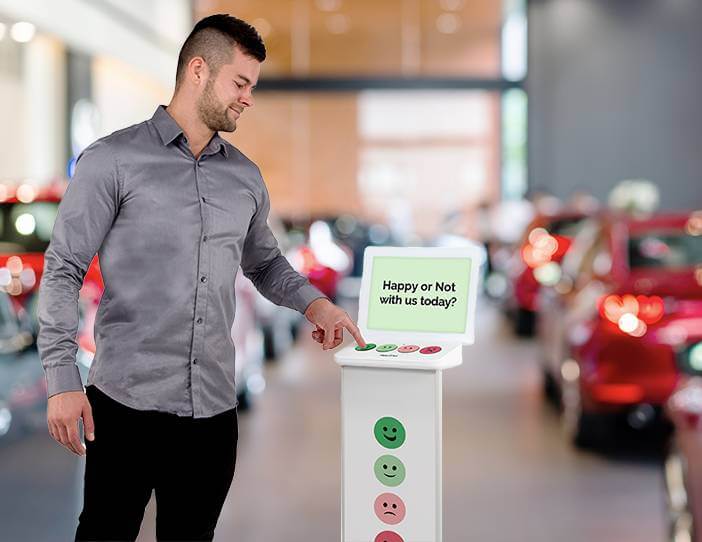 Drive your automotive business's growth with
HappyOrNot
HappyOrNot solutions offer businesses in the automotive industry a unique way to capture feedback and engage with customers. By using the HappyOrNot Smiley Touch terminals, you can gather feedback at the moment of engagement and improve your automotive customer's experience in real time.
With insightful analytics, you can identify gaps in customer experience and better understand the needs and preferences of buyers visiting your dealership, allowing you to improve your sales representatives' and service managers' engagement with customers to win new business, increase purchase value, and improve customer loyalty and lifetime value.
of customers think about changing their automotive brand after a company fails to deliver a relevant customer experience
of automotive consumers will leave a review during their buying journey
of respondents say the seamlessness of the customer experience influenced their last vehicle purchase
Easy-to-Use feedback solution for automotive industry
Our solution is incredibly user-friendly and can easily integrate into any business in the automotive industry, including car, RV, boat, motorcycle, ATV dealers, and more. In just 4 steps, you can collect feedback from all showroom visitors, companions and advisors, and learn what they need to close the deal.
How It Works

1
Set up
Place the Smiley terminals in strategic locations of your dealership.

2
Collect
Collect feedback at the moment of engagement throughout your customer's journey.

3
Analyze
Analyze the data to gain valuable insights into customer needs and preferences.

4
Optimize
Optimize your operations to increase sales and enhance the customer experience.
Trusted by over 4000 brands, including leading automotive businesses
The HappyOrNot solution is trusted by over 4000 brands, including leading businesses in the automotive industry. By using HappyOrNot, you can ensure your team provides a buying experience that aligns with your customers' needs and preferences, making it easier to optimize operations for increased lifetime value.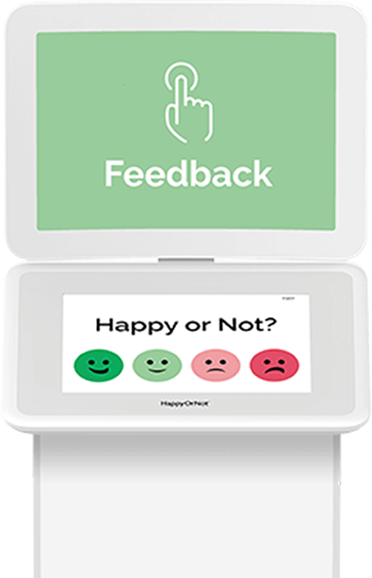 Hear from our satisfied automotive industry customers
Our HappyOrNot solution have helped countless businesses in the automotive industry optimize their operations, increase sales, and enhance the customer experience of both car buyers and maintenece services customers. But don't take our word for it. Here are just some of the testimonials from our satisfied automotive customers.
Fuel your automotive business with HappyOrNot
Become a market leader in your area and beyond by becoming the go-to automotive dealership customers want to go back to.