Kevin Dier
Vice President of Business Development, Johnstone Supply
Solution:
Smiley Touch, Smiley Digital
Real-Time Customer Feedback Key Results:
25%
reduction in dissatisfied customers
50%
fewer unhappy customers
than the industry average
Improved
customer experiences
during peak months
Growing
partnership with HappyOrNot
to increase digital success
Johnstone Supply elevates the B2B customer experience in HVACR wholesale industry
Since 2019, HappyOrNot has been helping Johnstone Supply's locally-operated stores get a clearer understanding of what is and is not working when it comes to keeping their customers happy, from face-to-face customer service experiences to product availability and wait times. "HappyOrNot has helped us isolate many customer service issues and be more attentive to those locally," says Kevin Dier, Vice President of Business Development at Johnstone Supply.
With the majority of customers being Heating, Ventilation, Air Conditioning & Refrigeration (HVACR) industry contractors, Johnstone Supply is not your typical retail storefront. In some cases, the North American-based wholesale distributor will see the same customers multiple times a week or as much as twice a day, every day.
Customer dissatisfaction reduced by 25%
Before partnering with HappyOrNot, Johnstone Supply had been looking for ways to collect more tangible feedback from customers than what they had been getting with previous solutions. From helping leaders and local store owners understand the user-friendly reporting system, develop the right customer questions, and implement and set up the service, the HappyOrNot team has provided Johnstone Supply with the full customer feedback experience for its store locations across the United States and Canada.
"Phoning customers days and weeks after their visit to request feedback wasn't getting us the most accurate information, so we needed something more timely," says Kevin. "We've noticed that with the HappyOrNot Smiley Touches at our locations, customers being able to respond immediately following their experience is providing us with more relevant and reliable feedback."
That feedback is one of the reasons they have been able to focus on their customer dissatisfaction rate. With year-over-year improvements since the start of the partnership in 2019, Johnstone Supply has lowered their share of unhappy customers by 25%.
"We can attribute these improvements to the data we're receiving from the HappyOrNot solution because each month we have leaders from our stores share best practices during our Customer Experience Improvement Project (CX IP). This is one of the many ways in which we utilize the feedback we receive from HappyOrNot," says Kevin. "Not only does it bring a competitive spirit across our companies, but it also helps our people understand what each store is doing to raise their scores, and to take those learnings into their own stores."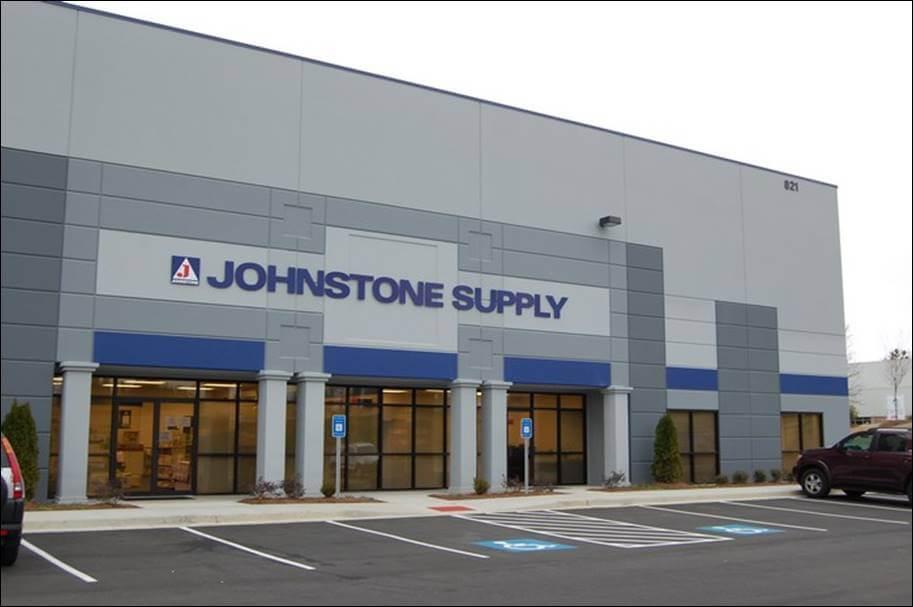 50% fewer unhappy customers than the industry average
Since the start of the partnership with HappyOrNot in 2019, Johnstone Supply staff have been able to apply the customer feedback they receive to gain an improved understanding of their customers, while also highlighting any issues and educating employees about the most important aspects for their customers.
While the average rate of unhappy customers in the wholesale industry is 9.1% — or nearly 1 in 10 — Johnstone Supply has been able to use the HappyOrNot data to achieve a rate of only 3.8%. This means Johnstone Supply has over 50% fewer unhappy customers compared to the industry average.
"We've learned from our customers that the most important part of the experience with their in-store visits is how they're treated at our information counters with our experts," says Kevin. "There is nothing trivial or insignificant about that feedback and it's something that we have been able to focus on. This has helped us to reduce the already-excellent negative feedback numbers and instead increase the number of positive experiences our customers are sharing with us."
Increasingly motivated and engaged employees are also playing a vital role in Johnstone Supply's pleased customers. It's something Kevin and the Johnstone Supply team have credited the HappyOrNot partnership with.
"Accountability from our staff around customer satisfaction is something we've noticed, compared to before we partnered with HappyOrNot," says Kevin. "Our employees are absolutely more engaged with in-store customers, which we attribute to the sense of ownership and pride when a customer visits their store and interacts with the Smiley Touch kiosk on the way out."
Improved customer experiences during peak months
With its easy-to-read reporting and visual system, HappyOrNot is making it simpler for Johnstone Supply staff to improve their customer service, even during peak seasons.
In any industry, it would be considered normal that when a customer-facing business sees its most demand, the quality of customer service may see a reduction.
For Johnstone Supply, their busiest times of year are the winter months for its northernmost locations and the peak summertime months of June, July and August, for all of their locations, where customers visiting their stores may experience extended wait times, delays in product availability and reduced customer service.
"The customer experience can be more strained during our summer months, due to the volume we see," says Kevin. "But the input and data we receive from our customers using the HappyOrNot kiosks have truly helped us stay focused on our customers even during the heat of battle throughout the summertime when we're at our busiest at all our locations."
Growing partnership with HappyOrNot to increase digital success
As Kevin and Johnstone Supply leaders look ahead, they have bigger plans to evolve their strategy and bring in a more digital approach to their business, with HappyOrNot playing a key role.
They are already looking at ways to broaden their HappyOrNot executions, including providing customers alternative ways to provide feedback.
As a part of the partnership with HappyOrNot, Johnstone Supply is planning to step up the Smiley Digital on their individual store websites. HappyOrNot's range of Smiley Digital options allows for even more feedback opportunities from customers in order for Johnstone Supply to retrieve omnichannel insights.
"The increasing shift toward digital is one of many trends that we're embracing into our business," says Kevin. "As we ramp up that shift to become more digital, we'll want to leverage these digital enablers of HappyOrNot much more into the future."
While advancing their digital presence is clearly imminent for Johnstone Supply, the path has been paved for a continued thriving partnership with HappyOrNot.
"HappyOrNot has taken very good care of us and has been right there every step of the way," Kevin concludes. "It's been a successful partnership for Johnstone Supply and we're looking forward to them being a part of our success into the future."
Serving the heating, ventilation, air conditioning, and refrigeration industries since 1953, Johnstone Supply is a leading wholesale distributor of parts, supplies and equipment for HVACR contractors across 400 locally owned and operated stores throughout the United States and Canada.
Johnstone Supply store owners and staff pride themselves in their customer service and product selection, helping HVACR contractors develop and grow their businesses. Learn more about Johnstone Supply at www.johnstonesupply.com.