Kenneth G. Sørensen
Operations and Business Development Manager, XXL Sports & Outdoor
Solution:
Smiley Touch, Smiley Digital
Omnichannel Customer Feedback Key Results:
2 million
feedbacks in 6 months across digital and in-person touchpoints
40%
of all customer feedbacks
collected in digital channels
94%
customer satisfaction score
during peak shopping season
800,000
responses to a single
online pop-up survey
How retailer XXL achieves high omnichannel customer satisfaction scores
Motivation and awareness are two of the key pillars when it comes to omnichannel operations in the retail sector and HappyOrNot is playing a critical part in bringing both to XXL's organization. Since early 2020, XXL has been implementing the HappyOrNot solution to help measure customer experiences in its retail stores and digital channels across the Nordics and Austria, in addition to gathering insights around staff members' experiences at its Norway-based headquarters. "HappyOrNot is helping XXL to evolve our company culture and customer experiences and is bringing us new ideas when it comes to leadership opportunities," says Kenneth G. Sørensen, Operations and Business Development Manager.
Over 2 million feedbacks in 6 months across digital and in-person touchpoints
Averaging about 1 million customer feedbacks each quarter, XXL is well-positioned to leverage the valuable customer feedback data into tangible improvements and solutions for its operations.
Prior to partnering with HappyOrNot in early 2020, XXL's individual retail store managers and company leaders were applying other solutions as ways to collect customer feedback, including the use of mystery shopping. While some of those solutions did offer some value and insight, they were not providing a measurement sample significant enough to make data-driven decisions for the necessary impact.
"Before partnering with HappyOrNot, what we found with other solutions we were using and relying on is that many of those reports were only capturing an individual moment in time," says Kenneth.
Customer experiences will vary whether they are shopping at the same time or other parts of the day, shopping for different items, or dealing with XXL staff on another floor of the shop. Ensuring a consistent omnichannel experience, whether for customers shopping on XXL's online platform or at physical XXL retail locations, HappyOrNot is providing XXL with the tools to offer all shoppers an opportunity to provide their feedback. Listening to the voice of all customers is an essential part of implementing one of XXL's company values, #customerfirst.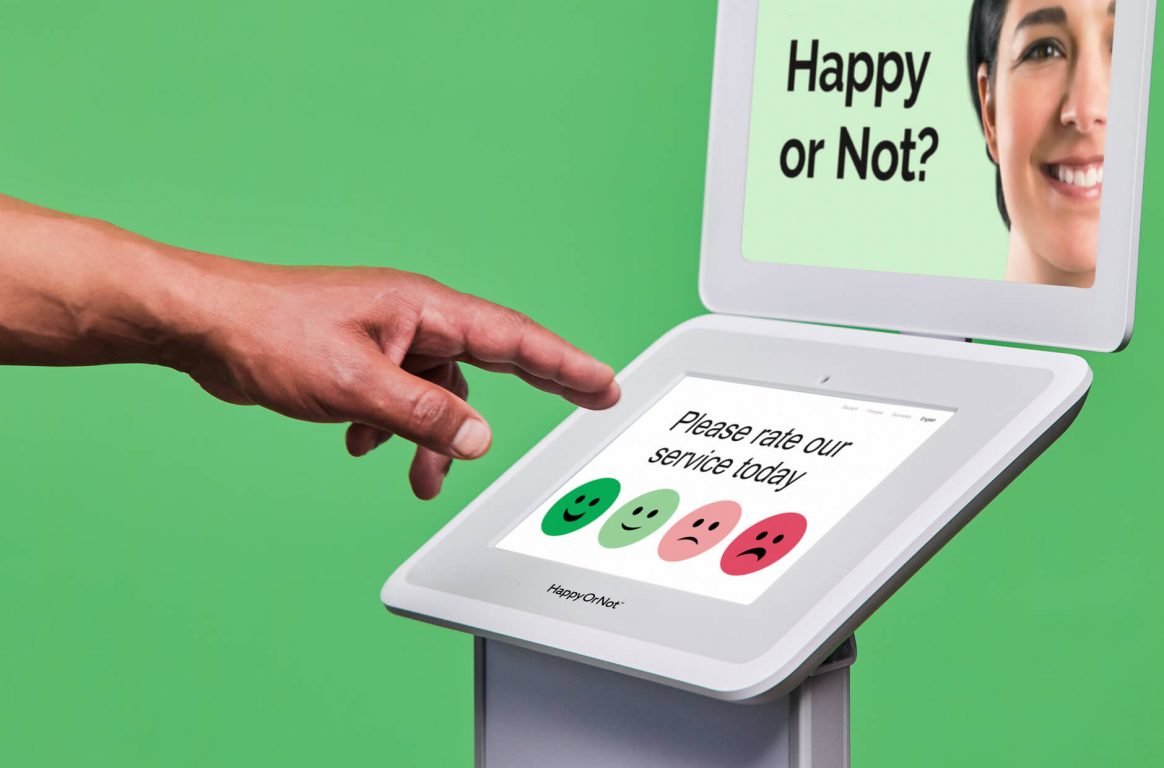 40% of all customer feedbacks collected in digital channels
While retail storefront locations make up the majority of XXL customers, 26% of its business comes from e-commerce and digital channels. With the pandemic forcing XXL to shut down nearly 70% of retail locations, digital initiatives have meant a lot more traffic and business to its websites. It's also meant that 4 of every 10 customer feedbacks are coming directly from online shoppers in a range of formats from order confirmations, chats with customer support and email surveys.
The online surveys are especially important as they are helping to facilitate the monitoring of issues with online payment methods, in addition to third-party companies, such as couriers and delivery.
In addition to senior management getting a new perspective with the availability of the customer feedback from HappyOrNot Smileys, there has also been more of an impact for XXL to innovate and make improvements to its websites. The data is giving XXL leaders and store managers clear visibility of common concerns, linking them to problem areas they are already aware of, and helping to support and justifying customer experience improvements in the future.
"Our online and e-commerce strategy has performed very well, with the scores and data confirming this," says Kenneth. "We not only desire to take actions, but we are also able to take real actions to improve without solely talking about them. HappyOrNot has given us the motivation and ability to take these real actions based on millions of feedback points from our customers."
94% customer satisfaction score during peak shopping season
While the busy holiday season of 2020 saw XXL's total satisfaction score at 94%, one of the main achievements HappyOrNot has been able to help XXL employees with is the ability to now offer otherwise-disappointed customers with better alternatives when a retail store or its online store doesn't have a particular product in stock.
This could mean recommending a different product or informing them at a later time when a product will be in stock. Without HappyOrNot, this kind of customer experience was difficult, if not impossible, to measure whether it was something they were excelling at or not.
While evaluating location data, one XXL store had been showing a consistently high customer dissatisfaction score (30%), more than double the retailer's national average (13%). In follow-up discussions with the store's management regarding the cause and looking at ways to improve, it was calculated using XXL's HappyOrNot data that the store could lose upwards of €84,000 over the following 12 months if they didn't take steps to resolve the customer dissatisfaction issues.
"We can now see and have a clearer view on these types of situations, thanks to the data we're getting from our HappyOrNot set up," says Kenneth. "This particular store has been a success story for us in this scenario. The staff and leadership of the store have actually doubled the number of satisfied customers, despite a lack of stock for a certain item at that point in time. We can attribute these satisfied customers to the data we're receiving from HappyOrNot."
XXL leaders are able to look at those results and use them as a model for other locations. The feedback data is being used as a motivational tool for training and best practices around employee performance and behavior with customers at various locations.
800,000 responses to a single online pop-up survey
XXL's growing digital initiatives alongside the pandemic have seen steady increases in traffic with the order confirmation Smiley Digital pop-up survey collecting valuable feedback from more than 800,000 respondents, alongside an extremely high satisfaction score of 97%. Despite such a positive number and with the HappyOrNot customer feedback data available to them, XXL has also been able to identify the exact challenges among the 3% of unhappy customers and is already working to further reduce that low percentage number.
According to Kenneth, "HappyOrNot is helping us to align our customer experience efforts in both our physical locations and online, which enable us to connect and share information. It's providing our customers with a more seamless experience, regardless of whether they're shopping at our stores or on our website."
"The support we've received and continue to receive from the HappyOrNot team has been a highlight for us," adds Kenneth. "When it comes to customer experience solutions, it's been really, really great and both our retail and digital teams have found that any issues are able to be solved right away with HappyOrNot's help."
About XXL
As the fastest growing apparel and sporting goods retailer in the Nordic region, XXL puts a premium focus on customer experiences. The Norway-based retailer aims to be the leading distribution channel for branded sporting goods, with customer satisfaction and pricing strategies being key values when it comes to its online operations and 90 retail stores across the Nordics and Austria. To learn more about XXL, visit www.xxlasa.com.