Randy Lambert
Director of Stores, Shoe Station, Inc.
Shoe Station on Managing CX in the "Next Normal"
Shoe Station Inc. is one of America's largest independent shoe retailers, with 21 stores in five southeastern states. They employ 500 people and serve millions of customers online and in their 25,000-square-foot self-service stores. 
Shoe Station first trialed the HappyOrNot service to measure customer satisfaction in 5 stores in 2018 after spotting it in an airport. When realizing its instant benefits, by the second week of use they immediately deployed HappyOrNot Smiley Touch terminals to all 21 retail locations. 
Shoe Station shares their insights
1. How do you see the role of Customer Experience in retail the next normal?
You've got to understand what your customers are looking for. Are they looking for the ability to come into your brick-and-mortar store and shop safely? Are they looking to buy online, pick up in store, or are they looking to just a phone in order? What is it they're looking for is very important to understand in this new world that we're in right now. 
Through the customer feedback data collected by HappyOrNot, we have found that what our customers are telling us from different cities, or different states, varies. In one location, they may really like to call in, ask for a certain product, reserve it, and then come to pick it up. Then, in other stores, the customer would still rather come in and shop around. 
There's been a lot of change in the way customers are thinking about buying things in-store: it's more about necessity and it's done in a more focused way. We have seen a lot less grazing in our stores. People are coming in with a purpose. If they need a new pair of running shoes, they go in, look at the running shoes, pick out a pair, buy them, and go. They aren't browsing or looking at other types of shoes – they get what they came in for and then they're out. That's really where we are with the new normal right now.  
And conversely, if they have an opportunity to buy it online, they will choose that option. Here, our website has really taken off because, of course, there are people that are cautious about going to a lot of stores unnecessarily and instead prefer to shop online. This becomes especially true in retail, because they know what brand they like, or particular shoe they want and in what size, and so they don't really need to go to the store to try it on—they can simply buy online and have it shipped to their home. 
As it relates to our customer experience, we are tailoring to what they're looking for. And if they're looking for athletic shoes (which have become very popular now), we've made sure to increase the availability by making additional buys to stock any open spots we may have for product in those categories.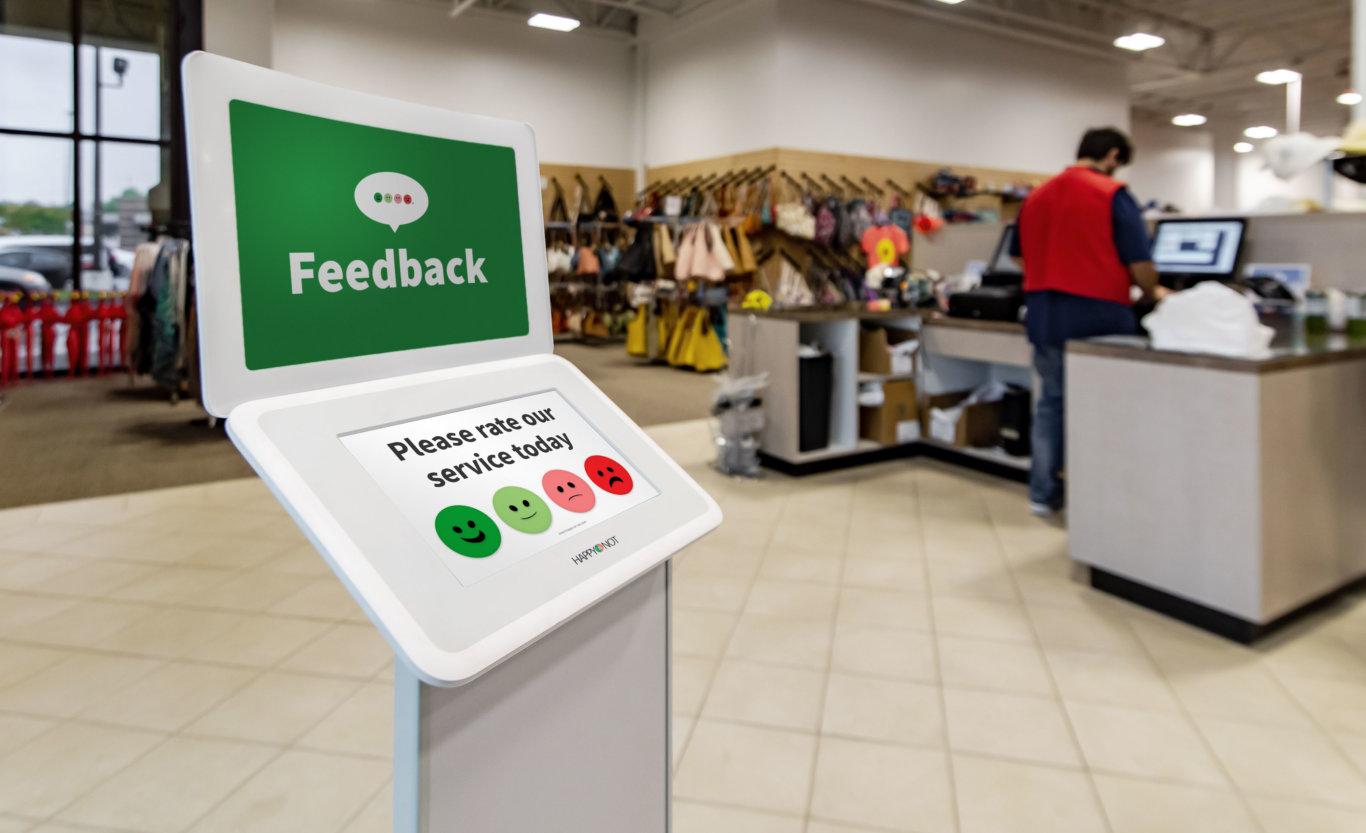 2. Why do you feel it is important to continue measuring customer satisfaction and improving the customer satisfaction during the pandemic?
It's critical to listen to what your customers are telling you. Some are going to tell you what you're doing wrong and some are going to tell you what you're doing right, and it's important to gauge both the positives and negatives and set your course from there.
It even extends to things like providing assurance that we're taking safety and hygiene precautions by having shields at our registers, all employees wearing a mask, and fogging our stores. We also took into immediate use HappyOrNot's antimicrobial screen protectors on our Smiley Touch terminals to make sure our customers would feel comfortable to continue to give us feedback. We're taking all of these precautions, including wiping down common surfaces regularly– whether it's a credit card machine or capture unit— to not only keep our customers safe, but our employees safe, too.
And we see in our HappyOrNot scores, and the open comments feedback, our customers telling us that that they feel like we're doing a good job. In fact, our Happy Index score from May this year to date is actually higher than it was pre-pandemic – from 86 on average to 89. These factors validate that we're moving in the right direction, making the right decisions, and continuing to ensure we meet our customers' expectations.
3. Have you made any interesting findings from the data? For example, reached different insights compared to pre-pandemic?
We can see in our HappyOrNot scores that customers who do come into our stores are having a good experience. They see that we're taking all of the known precautions that we can, and we're offering the ability to shop online or call it in, or come by our store and pick it up. These efforts and or communication around it have certainly played an important in actually improving our customer satisfaction score since May.
Another example that supports the positivity towards our precautionary measures is our open feedback comments. Not only has the response rate stayed at the same ratio as pre-pandemic (I attribute this to our communications about safety and hygiene and also the antimicrobial screen protectors), but I also don't know that I've read a single complaint about someone saying 'your [pandemic] policies are not good enough. We're not we're not coming back'. I haven't heard a single person say because of the way we're handling it, they're not coming back and they're going to go shop at another location or another business because they're handling it better than we are. And to me, that is winning with customer experience.
4. What are recommendations to other organizations, why should they care about Customer Experience during the pandemic?
It's critical to listen to your customers. As an example, we noticed an open feedback comment in the [HappyOrNot] reporting saying that one of our employees wasn't wearing a mask and that it made the customer uncomfortable. As we have video in our store, we reviewed the tape to figure out what had happened, and were confident in taking the necessary corrective measures.
It's also very important to be able to let the customer know you understand their concerns, and that you, as a business, share their same concerns. And, further to that, what actions and precautions you are taking to improve. A proactive example for us are the door handles in our stores. They get touched by virtually everyone coming in and going out, and we wipe them down on a strict schedule to do our part to keep everybody healthy. Especially during times like we're in now, even something that may have previously seemed irrelevant is a very important message to communicate to your customers, and speaks to the attention that you're giving to their experience with you.
The reality is, if you don't care about your customer experience you're going to lose your customers. It doesn't matter what industry, or size, your business is: if people don't like the experience you give, they will find another business to get what they're looking for – and that includes a good experience.
What Shoe Station has done has been very important to us also in our advertising. We have communicated that we're taking precautions, like offering free masks for customers, placing hand sanitizers around our stores, having our employees wearing masks, fogging our stores, etc., and that it's being done to ensure that our stores are a safe environment for everyone.
It's just as important to let customers know that you have this "great shoe at a great price", as it is to let them know that when they come in and shop your brick and mortar, that you're taking all the precautions keep them safe. That's also why we feel it's been important to continue to share our HappyOrNot customer satisfaction stores in our social media channels – it lets our customers know, as voted by their peers, that what we're saying we're doing is confirmed by customers themselves through the positive feedback scores.
For more on Shoe Station, visit:
For further content on CX in the "Next Normal":