New Technology and The Customer Experience
Customer service teams worldwide are constantly trying to use the latest technology to understand better what their customers expect. And Alverno Laboratories is no different. 
To improve CX, this healthcare company used technology to stay ahead of the competition and learn how to improve their business by learning directly from customers. 
Read on to find out how they utilized HappyOrNot to create a more personalized experience and increase the number of loyal customers. 
Meet Alverno Laboratories
Alverno Laboratories, located in Hammond, IN, is a trusted partner for hospitals, clinics, and physicians conducting disease detection testing. Their advanced technology and trained lab personnel ensure accurate results, benefiting symptomatic and asymptomatic patients.  
Alverno has earned a reputation for excellence, with over 30 hospitals and numerous physician clinics relying on their precise test results in Indiana and Illinois, including Chicago and its suburbs. With a commitment to maintaining an excellent patient experience and an annual growth rate of 20 percent, Alverno's 1,700 employees, including 100 in-office phlebotomists, provide essential medical services.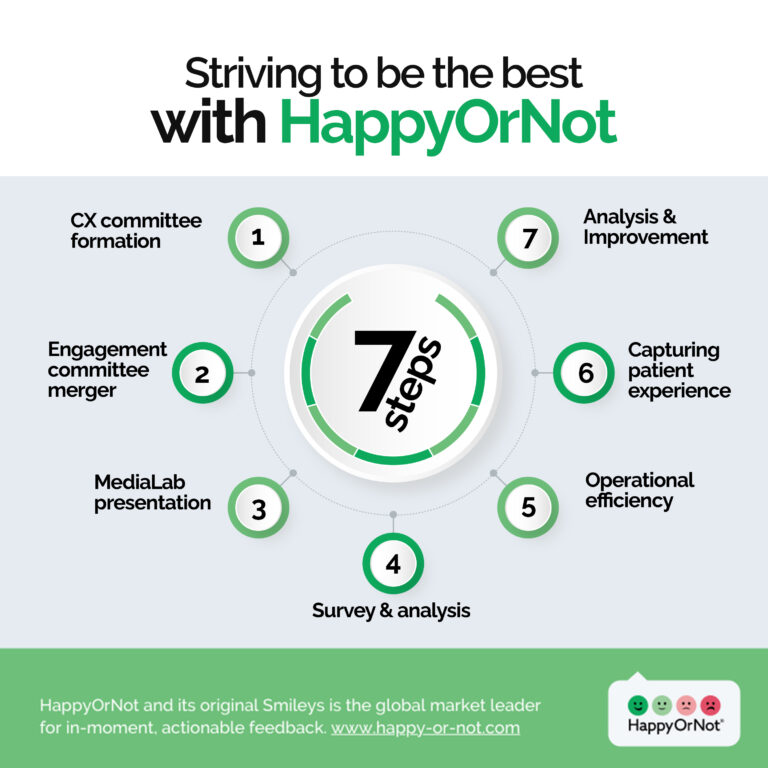 Striving to be the best
To deliver "The Alverno Experience" and meet customer expectations while optimizing patient and employee engagement, Alverno Laboratories implemented a multi-step process leveraging digital technology and data-driven insights: 
Step 1: Formation of the customer experience committee 
Alverno assembled a diverse committee of employees from various backgrounds, experiences, and work departments. This committee recognized the importance of customer satisfaction and its direct correlation to employee engagement, influencing the patient experience. 
Step 2: Merger with the employee engagement committee 
The Customer Experience Committee merged with the Employee Engagement Committee, aligning objectives to further the mission of both committees. This integration aimed to create a seamless customer experience and inspire customer loyalty to the company. 
Step 3: Development of MediaLab presentation 
The newly formed committee developed a MediaLab presentation to communicate and illustrate the ideal patient experience effectively. This presentation served as a knowledge base for employees, empowering them to deliver personalized and exceptional customer interactions. 
Step 4: Employee survey and analysis 
Alverno surveyed its employees to understand how the organization could support them in providing "The Alverno Experience." The survey revealed the importance of customer-centric values, effective communication, and continuous employee training to deliver better customer experiences. 
Step 5: Identification of easy wins and operational efficiency 
The committee implemented employee education programs and established essential phlebotomy competencies, leveraging the survey feedback. Through process mapping and the application of digital technology, Alverno identified areas for improvement (Kaizen) in various blood draw processes.  
This led to enhanced operational efficiency and better customer experiences. 
Step 6: Capturing the patient experience in real-time 
Recognizing the need for fast and effortless patient feedback, Alverno partnered with HappyOrNot, a digital technology solution. Touchscreen terminals were installed at clinics and outpatient centers, enabling patients to provide real-time feedback through simple taps on smiley faces.  
This data-driven approach empowered Alverno to track customer satisfaction, identify highlights, and address pain points promptly. 
Step 7: Data analysis and continuous improvement 
HappyOrNot's solution provided valuable data analytics, allowing Alverno to evaluate patient satisfaction trends daily and hourly. These insights enabled the company to determine the best survey locations to deliver exceptional patient experiences and proactively address concerns.  
Alverno leveraged this feedback loop to continuously improve its services, enhance customer experiences, and drive revenue growth.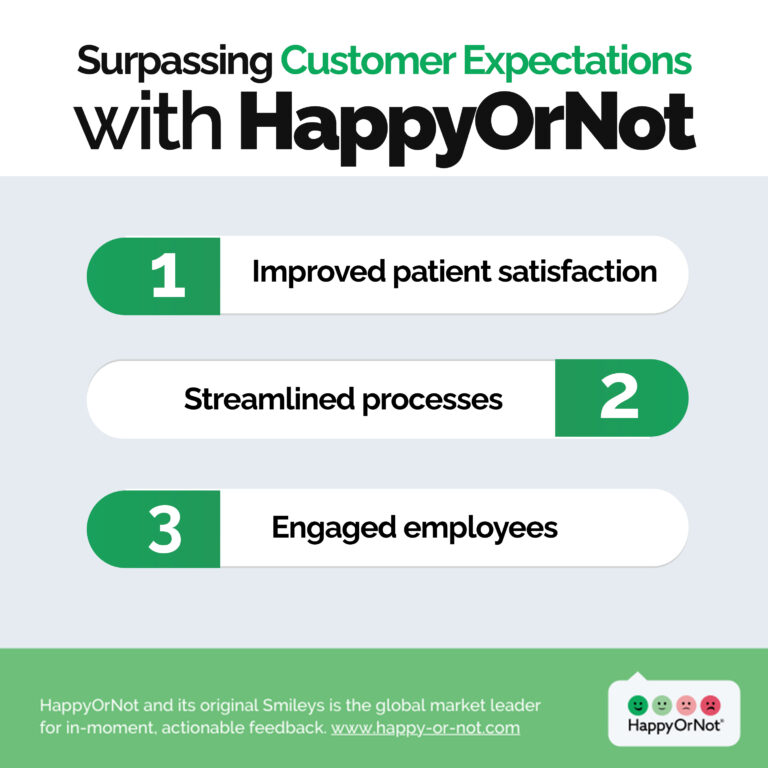 Surpassing customer expectations with HappyOrNot 
With access to real-time analytics from HappyOrNot, Alverno has gained valuable insights to enhance its operations and deliver a positive customer experience. Here are the key benefits they've achieved: 
Improved patient satisfaction:

Alverno utilized HappyOrNot's data to identify areas for improvement and address training needs, resulting in a significant boost in patient satisfaction ratings.

 
Streamlined processes:

Through data-driven insights, Alverno successfully reduced patient wait times and optimized staffing levels, leading to more efficient operations.

 

Engaged employees:

Weekly posting of results and recognition through the "The Alverno Customer Experience (ACE)" Award incentivized employees to provide excellent patient experiences, fostering engagement and a customer-centric culture.

 
These outcomes showcase Alverno's commitment to using technology solutions like HappyOrNot to drive digital transformation, improve customer experiences, and establish itself as a leading service provider in the healthcare industry. 
Conclusion
Alverno Laboratories has successfully leveraged new technologies and prioritized the customer experience to establish itself as a leading service provider in the healthcare industry. By embracing digital transformation and data-driven insights, Alverno has surpassed customer expectations and achieved remarkable outcomes.  
Key highlights of their journey include: 
Multifaceted approach:

Alverno formed committees, merged objectives, and developed a MediaLab presentation to align their teams and create a seamless customer journey.

 
Data-powered improvements:

Through employee surveys and process mapping, Alverno identified areas for enhancement, optimizing operational efficiency, and addressed customer pain points.

 
Real-time patient feedback:

Partnering with HappyOrNot, Alverno implemented

SmileyTouch terminals

to capture patient experiences, enabling prompt analysis and continuous improvement.

 
Enhanced patient satisfaction:

Leveraging insights from HappyOrNot's analytics, Alverno improved patient satisfaction, streamlined processes, and created a positive customer experience.

 
Engaged employees:

Alverno fostered employee engagement by recognizing and incentivizing outstanding performance, resulting in better customer interactions and loyalty.

 
For an in-depth look at Alverno Lab's best practices and how your organization can benefit from using Big Data to improve the patient experience, watch the recorded webinar now!