Finland's region with the happiest customers revealed
Whether you're from Finland, United States, Japan, or any of the other countries we're found, you are certain to know of the company HappyOrNot. And if not by name alone, by having seen, and, undoubtedly, leaving feedback via our Smiley-faced feedback terminals used by thousands of businesses worldwide. 
But in case you weren't aware: HappyOrNot was born in the city of Tampere, Finland (in the Pirkanmaa region). The invention of founders Heikki Väänänen and Ville Levaniemi in 2009, the HappyOrNot solution rapidly gained international traction amongst companies looking to optimize experiences across all touchpoints through relevant, in-moment customer feedback data. In this BBC's The Boss article, Ville remarked on HappyOrNot's humble beginnings: 
"We have been laughed at. Laughed out of offices multiple times. Some companies, especially to begin with it, didn't take us seriously. They didn't see the value of what we do. But what is particularly pleasing is the number of firms who initially said no, but then a few years down the line came back and say they want to use us." 
HappyOrNot today looks a bit different. We are used by over 4000 brands across 135 countries and have collected over 1.5 billion feedback responses for our customers to date.
Finland ranks #1 in world happiness
Not only are we proud of our continued growth and Finnish roots, we're delighted to be ranked as the world's happiest country for the 5th consecutive year in the UN's 2022 World Happiness Report! 
But what exactly is the World Happiness Report? It takes into account factors such as healthy life expectancy, freedom to make life choices, gross domestic product (GDP), generosity, social support from friends, perceived corruption, as well as recent emotions of the respondents, both good and bad. 
Finland's spot comes as no surprise, as our data on customer feedback shows high levels of customer satisfaction. In analyzing over 8 million customer feedback data points from across Finland in 2021, we found that the customer satisfaction benchmark (average percentage of positive feedback) across all industries was an impressive 91%, compared to, as examples, 88.1% in the US, and 77.3% in the UK.
Customer happiness across Finland
Finland's world happiness ranking also sparked our curiosity: how is customer happiness ranked across Finland? Again, we turned to our data. We analyzed a total of 3.5 million customer feedback responses between March 1, 2021 and March 13, 2022 to rank Finland's 19 regions based on the customer satisfaction benchmark, and the results were very interesting: 
Åland, 96.6%

 

Central Ostrobothnia, 94.6%

 

Central Finland, 94.4%

 

South Savo, 93.9%

 

Kainuu, 93.7%

 

North Karelia, 93.1%

 

Ostrobothnia, 92.4%

 

North Ostrobothnia, 92.3%

 

North Savo, 92.3%

 

Päijät-Häme, 92.2%

 

Lapland

, 89.3%

 

South Ostrobothnia, 88.8%

 

Satakunta, 88.4%

 

South Karelia, 88.4%

 

Pirkanmaa, 88.3%

 

Uusimaa, 87.3%

 

Kanta-Häme, 86.1%

 

Kymenlaakso, 86.1%

 

Southwest Finland, 85.7%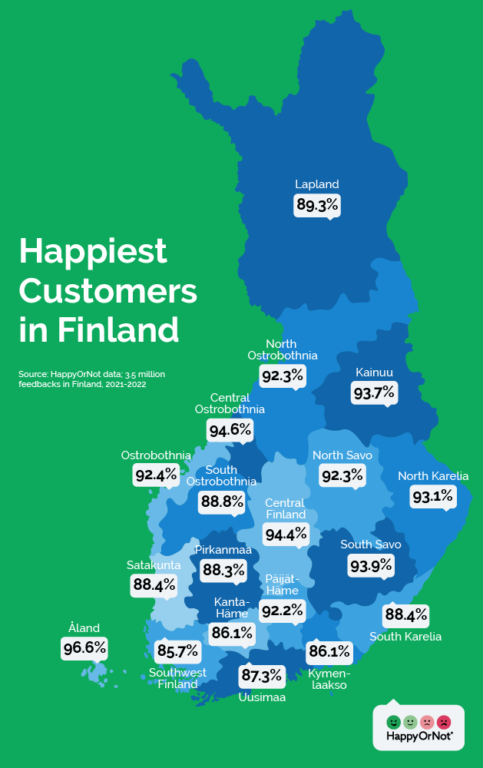 What makes Finland the happiest country?
The happiness of the Finnish people stems not only from its large number of welfare policies, its intrinsic affinity for mutual trust and equality but also from freedom. The mindset that one can only be free and independent if everyone is equally free and independent drives the country's policy-making and underpins what it means to be Finnish.  
Oh yea—that, and our saunas, northern lights, and being the home of Santa Claus.