Can Retail Survive without Customer Analytics?
by Jessica Bethune | HappyOrNot
Retail tends to lend itself as a forerunner in utilizing Customer Experience data for marketing and branding purposes. But is that enough to support long-term growth in revenues and market share to ensure survival, when physical experiences drive digital behaviours?
We were excited to have exhibited at the 2019 EuroCIS Retail Expo in Düsseldorf amongst a variety of Retail Technology providers, but were surprised to have been only one of two (!) providers of a complete Customer Experience analytics solution. What did this mean?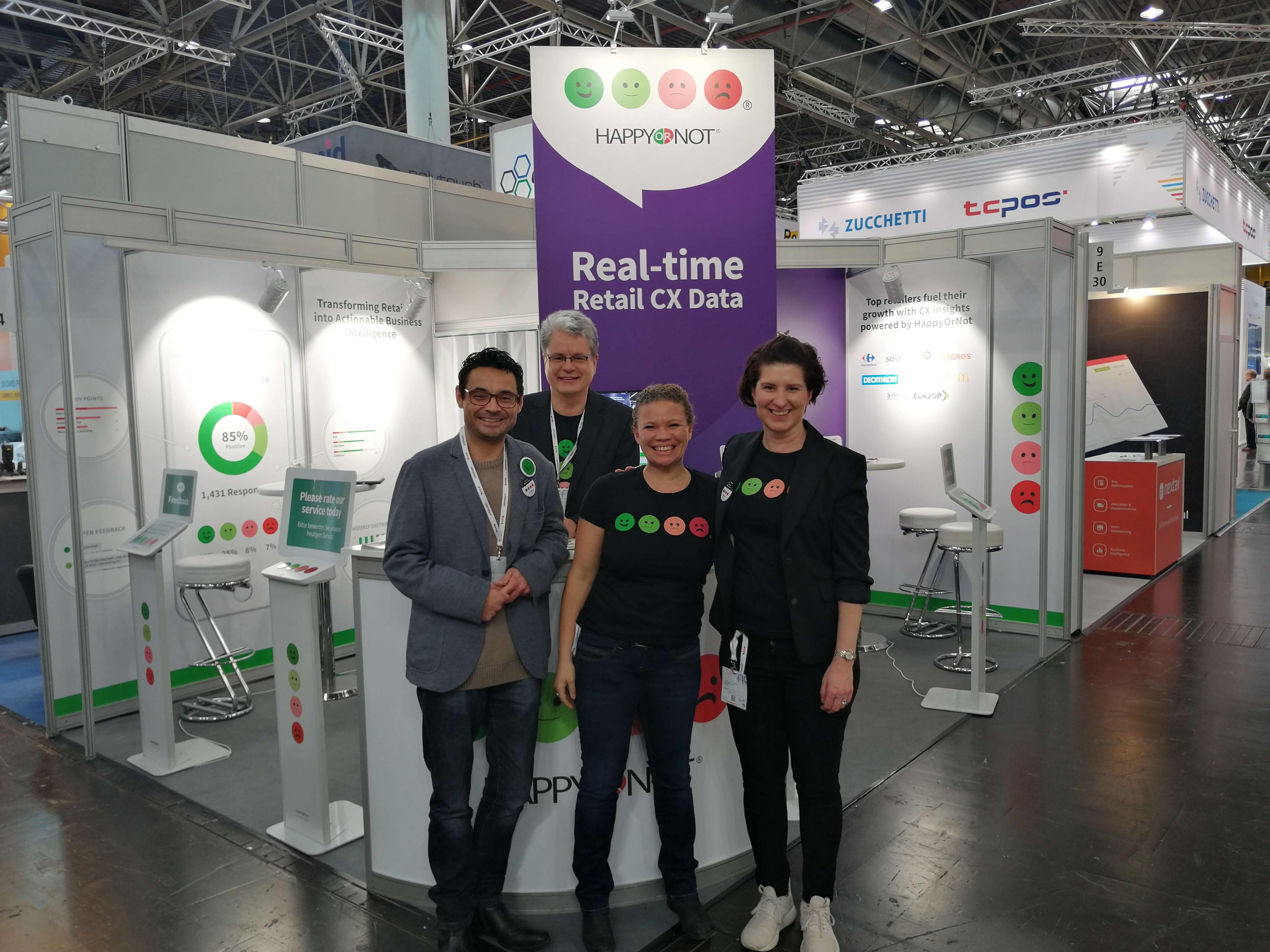 Many retailers talk about understanding the customer journey and tailoring the purchasing touchpoints to make the engagement a pleasant experience – one that creates more loyal customers – but only a few actually have a holistic solution in place to capture those physical experiences and then digitalise them into KPIs and success metrics. And even less utilize the power of data science to both understand the past and predict future customer behaviours and requirements.
Consider these simple facts:
64%

of all customers consider the procurement experience as a bigger differentiator than just the price.

Satisfied customers are

3.5x

more likely to repeat that purchase compared to even an OK-experience.

Brands focused on Customer Experience Analytics result in

4.6x

higher revenues than CX laggards.
Attendees who visited our booth showed similar reactions when talking to my colleagues and myself about their own approach to Customer Experience initiatives. Many are just starting their journey and looking for guidance on how to best kick-off these projects, and when we helped to educate them on true value of employing an easy, instant, and actionable CX solution, you could see the "aha" moment on their faces.

What's key to making CX initiatives work, and stick, is a solution that truly is easy, instant, and actionable. Our solution, for example, is based on simple to use, yet in depth, "always on" technology, serving as data entry points for capturing the in the moment customer experience by enabling customers to share their impressions and feedback on the level of service received during their journey.
Additionally, an easy and instant solution lends itself to enabling high-volume, continuous data insights, which is key to helping retailers understand their service performance trends and take immediate actions where the data shows as necessary. Tracking the CX in real-time and benchmarking the service within each store, chain or enterprise against industry benchmarks also helps retailers understand how their customer experience compares to industrial peers & competition.
Then, coupling real-time CX with open text customer feedback enables text analytics – pushing those insights into the Enterprise Data Science activities and streamlining operational and commercial reporting with the customer feedback – and that's when the magic starts!
I couldn't have said it any better than as said by one of our visitors, who made it very clear as to why they were talking to us:
"We want to be obsessed with our customers. We want to understand their views, expectations, experiences, and feedback. This is not done in a few weeks, but will be an endless project of continuous learning and improvement and will have an impact on every part of our business."
HappyOrNot R&D and Product teams continuously innovates our reporting & analytics offerings to help our customers kick-start their own CX programs – moving out of the comfort zone and allowing magic to happen.