The Airport Report – Feedback data from iconic 'Smiley Terminals' reveals world's happiest airports and the best and worst times to fly
TAMPERE, FI (December, 2017)
HappyOrNot, the Finnish company responsible for creating the globally-recognizable 'Smiley' feedback system, is this December publishing its inaugural Airport Report; based on 158 million data-points from HappyOrNot smiley terminals in 160 airports across 36 countries.
Analyzing air traveler feedback on an unprecedented scale, the report reveals the 8 happiest airports globally, offers insight into how certain parts of the air travel experience are happier than others, and illustrates the best and worst times of day, week, and year, to fly.
The Eight Happiest Airports
1. Exeter Airport, U.K. – 88.66%
2.= Cork Airport, Republic of Ireland – 88.45%
2.= Leonardo da Vinci–Fiumicino Airport (Rome), Italy – 88.45%
4. Dallas Fort Worth International Airport, U.S.A. – 87.35%
5. Newcastle International Airport, U.K. – 87.05%
6. London Southend Airport, U.K. – 86.79%
7. Cardiff Airport, U.K. – 86.57%
8. Keflavik International Airport, Iceland – 86.35%
This ranking is based on feedback data collected between November 2016 and November 2017, from airports which received over 120,000 feedbacks in the past year across more than two points of experience (security, baggage reclaim etc.).
The average value across all these airports was 76.52%.
Exeter Airport's Managing Director, Matt Roach, comments:
"The HappyOrNot units around the airport have proven to be a very effective and simple way to evaluate passengers' experiences. We know that the procedures at an airport can be stressful, but our staff do their best to ease the journey for the travelers and this shows in the consistently high positive ratings. I am very proud of the performance reflected in the responses, and the magnificent achievement of being in the top spot."
Ville Levaniemi, HappyOrNot Founder and Executive VP, comments:
"While the stressful airport is sometimes employed as a Hollywood trope, this report demonstrates the happiness of the majority of people taking to the skies. Our analysis presents a unique opportunity to celebrate those places that make the air travel experience pleasurable, based on an enormous amount of data rather than just anecdotal evidence. We want to congratulate Exeter airport, as well as all the other airports in this list, for ensuring passengers are so often on cloud nine."
Happiest and Unhappiest Times To Travel
Analyzing anonymized data across all airports using HappyOrNot feedback technology, and across multiple sections of these airports, the report reveals the times of day, days of week, and months of year when travelers are generally at their happiest and unhappiest.
These happiness rating figures correspond to the percentage of travelers who indicated they were happy (dark green or light green) via HappyOrNot terminals.
Time of day
9am is the happiest time of day for air travelers, with a happiness rating of 85.7%, closely followed by 8am with 85.5%.

2am and 3am tend to be unhappiest hours, with 71.3% and 71.9% of travelers happy at these times respectively.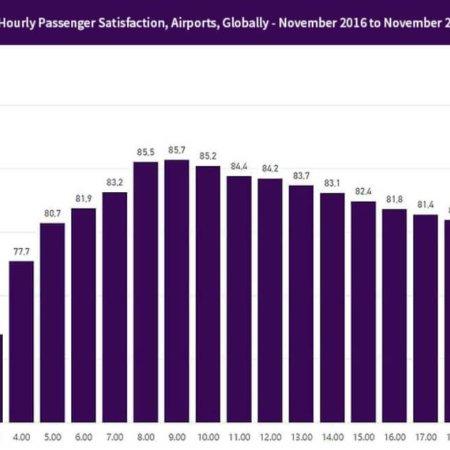 Day of week

Tuesdays (happiness rating of 83.4%) are the days when travelers are happiest, followed closely by both Wednesdays and Thursdays (83.2%).

Air travelers are, on average, much less happy when flying on weekends, with Sunday being the lowest-scoring day (80.0%), followed by Saturday (80.7%).
Month of year
October and November are the happiest months for air travelers, both with an average happiness rating of 83.5%.

Fliers in July are the unhappiest (80.9%), followed by those flying in April (81.1%).
Happiest and Unhappiest Parts Of The Air Travel Experience
This same anonymised data can then be broken down by the five major parts of an airport: check-in, security, washrooms, arrivals, and baggage reclaim.
Anonymized feedback data shows the following ranking in terms of happiness rating for these parts of the airport experience:

Security – 84.6%

Arrivals – 80.7%

Check-in – 77.0%

Washrooms – 74.4%

Baggage reclaim – 69.9%
With baggage reclaim the most frequently frustrating part of the airport experience for travelers, HappyOrNot data also reveals that the period between the hours of 1am and 3am is the worst time of day to go through baggage reclaim. Conversely, early morning (5am – 8am) is when travelers are most happy reclaiming baggage.
---
About HappyOrNot
HappyOrNot was founded by Heikki Väänänen and Ville Levaniemi in 2009. The company currently has over 4,000 clients in 117 countries (and a global reseller network of over 110 companies), and has recorded over half a billion responses to date. 25,000 physical 'Smiley Terminals' are in-use in airports, office spaces, and retail outlets around the world.
The company currently employs 65 people across its HQ in Tampere, Finland, and US office in Florida. Its clients include Microsoft, McDonald's, London Heathrow Airport, LinkedIn and the British National Health Service (NHS). In 2017, The Financial Times listed HappyOrNot in the top quartile of the FT1000 Europe's Fastest Growing Companies.
For international media enquiries please contact:
Nicholas Baines / Andrew Skinner
nicholas@deliberate-pr.com / andrew@deliberate-pr.com
0044 207 221 1540 / 0044 749 659 7439