TGIF: Myth or Fact? New HappyOrNot Study Reveals Happiest Workday
Every employee has said at least once during their work life "Thank Goodness It's Friday!" typically expressed in response to a long, stressful work week and the approaching weekend. However, is TGIF really true? HappyOrNot has researched its vast feedback database to look into the reality of this statement, and the results are telling.
Thousands of global customers are already using the HappyOrNot Smiley Terminal™ to measure customer satisfaction, and now many are starting to use them in continuous measurement of job satisfaction, like Nike, eBay, Microsoft, DHL, and Dixons Carphone. Nearly one million employees across the globe have pressed the corresponding smiley at the end of their work shift in response to the question: "How was your workday today?".
Asked by companies both big and small, this question raises awareness of the employee satisfaction and overall workplace happiness. The results act as a gauge for management of the correlated levels of engagement and productivity of the workforce. The following benchmarking data is based on the analysis of over 840,000 feedbacks over a full Monday to Sunday work week.
Move over Friday – the happiest workday is Saturday
While it may seem counterintuitive to think that working during the weekend would top any list, the research shows that Saturday is in fact the happiest workday measuring overall employee happiness at 76.5%. What was also interesting was that even Sunday beats out Friday.
'Monday Blues' is a myth
The long-time idiom appears to be also long overdue for an update. The results have shown that Tuesday has ranked as most unhappy workday at 73.1%. In fact, Monday only follows behind Friday's ranking by 0.3%, indicating that mid-week is the most challenging. Employers and HR management should take special note to this trend and try motivation boosting activities during these days to beat the slump.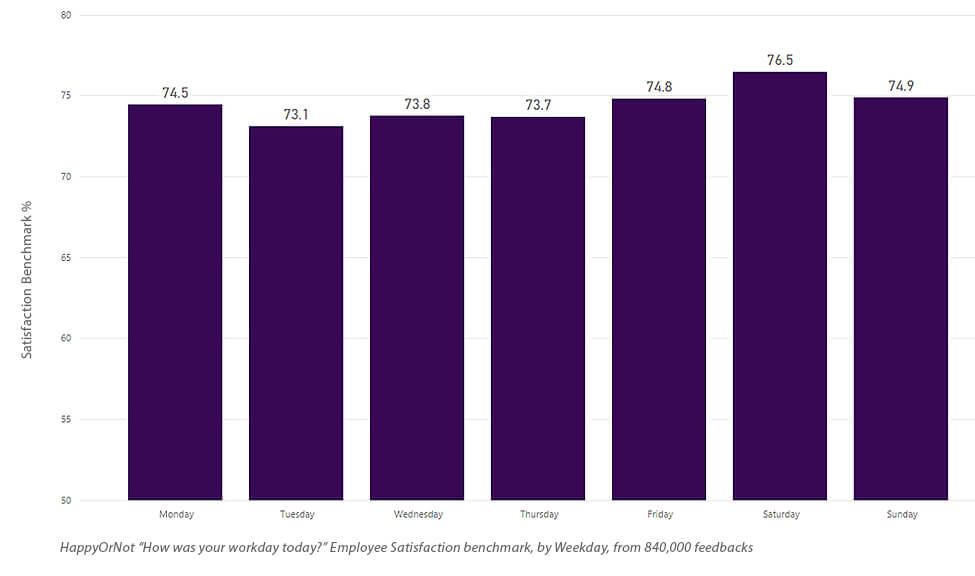 Year-end stress is good?
In addition to the weekly results, HappyOrNot investigated the monthly trends. Interestingly, the results show that November and December rank highest in employee happiness – the same timeframe when companies go through the Q4 push to meet year-end targets. It would have been reasonable to associate this time of year with a decline in employee satisfaction due to added stress, however, the results show otherwise.
There appears to be no correlation between the stress of achieving year-end targets and a decline in employee happiness results, indicating that a good level of stress can actually stimulate and motivate employees towards higher job satisfaction – a positive affirmation for companies.
Happy employees are business critical
Following employee attitudes daily and closely monitoring how those trends develop week over week and month over month is essential to maintaining healthy business operations. Companies need to be able to connect with and engage employees in ways which motivates and enhances work life well-being because this translates into improvements in productivity, costs, recruitment, and bottom-line.
"Productivity and customer service immediately suffer from employees' poor job satisfaction," says Heikki Väänänen, CEO and Co-Founder, HappyOrNot. He continues, "Workplace atmospheres and employee attitudes are constantly changing and significant changes can happen in short periods of time, so constant awareness of satisfaction levels is a must in order to also maintain customer satisfaction."
---
About HappyOrNot
HappyOrNot® is the global leader in instant customer and employee satisfaction reporting. Our innovative feedback collecting smileys and intelligent data analytics reporting service help our clients to improve their customer experience, relationships, and employee engagement. We serve over 2,500 companies across 90 countries and have collected and reported on over a quarter billion feedbacks.
Visit www.happy-or-not.com to learn more.
—