HappyOrNot, new player in the reputation reporting services, hits 400 million feedbacks
West Palm Beach, FL
Number of feedbacks received surpasses customer satisfaction data bank giants like TripAdvisor and Yelp.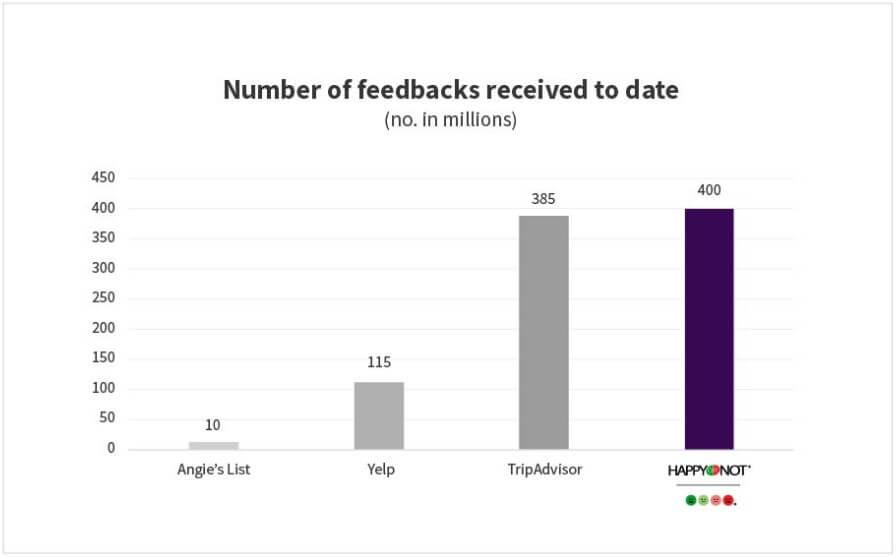 HappyOrNot®is proud to announce that customers have given over 400 million feedbacks with almost half received in the past year, and trending to hit one billion in 2017. This milestone surpasses other customer satisfaction data bank giants like TripAdvisor, Yelp, and Angie's List, which have received 385 million, 115 million and 15 million feedbacks respectively.
The surge of customer feedback illustrates the continued demand for interaction between consumers and businesses. For many reputation reporting services, the data is transactional in nature, such as leaving an online customer rating after a hotel stay or a quick press of a button from a feedback terminal located near a cash register. These small bits of data put together across millions of customers is what constitutes as "big data" and with this data many companies can uncover hidden keys to growing, acquiring and retaining users that could translate into a competitive advantage.
"When HappyOrNot clients improve their satisfaction levels, many have seen a subsequent improvement in other KPIs like conversion rates, basket size, and loyalty. Management would rather know how happy people were yesterday at their stores, not how happy people were 12 months ago," says Heikki Väänänen, Co-founder and Chief Executive Officer of the instant customer and employee satisfaction reporting company. He continues, "Comparing customer results against industry benchmarks have provided tremendous value to our clients as well. Our goal is to keep data quality high to supply each industry the best possible benchmark in different countries." HappyOrNot is currently present in 98 countries and growing.
For the latest HappyOrNot Industry Insights and Benchmarks, visit:
Retail – https://www.happy-or-not.com/insights/blog/retail
Transportation – https://www.happy-or-not.com/insights/blog/transportation
Services – https://www.happy-or-not.com/insights/blog/en/services
---
Contact us:
Johnelee Dizon, Marketing Director (HappyOrNot Americas), 305-469-2785, jdizon@happy-or-not.com
About HappyOrNot
HappyOrNot® is the global leader in instant customer and employee satisfaction reporting. Our innovative feedback collecting smileys and intelligent data analytics reporting service help our clients to improve their customer experience, relationships, and employee engagement. We serve over 2,500 companies across 98 countries and have collected and reported on over a quarter billion feedbacks.
Visit www.happy-or-not.com to learn more.