Global study of 70 million passengers: Wednesday is the best day for air travel
70 million passengers have given their feedbacks at 100 airports all over the world. The data collected with HappyOrNot's feedback collecting smiley terminals shows that Wednesday has consecutively ranked as the best day of the week to travel since the beginning of 2013 to May 2016.
[clickToTweet tweet="Passing through an airport between 5am and 8am on a Wednesday gives the best experience possible." quote="Passing through an airport between 5am and 8am on a Wednesday will give you the best experience possible." theme="style1″]
Travelling is on most people's agenda during the summer. The priority is to get to your destination where the fun and relaxation begins. Starting your vacation with the best travel experience can make the difference between having a nice vacation and having a great vacation.
"The happy, vacation-mode attitude can quickly turn into a stressful, unhappy one if you have an unpleasant experience at the airport. Things like long queues at security checks, slow baggage claims, inefficient check-ins, or poor service in lounges can have an impact on your mood and affect the rest of your vacation. It is understandable that the busiest days get the worst feedback results," says Heikki Väänänen, CEO at HappyOrNot.
While the results show that Wednesday is the day with the highest traveller satisfaction, mid-weekdays are also known to be the cheapest days to travel, since they are least popular.
Satisfaction Benchmark %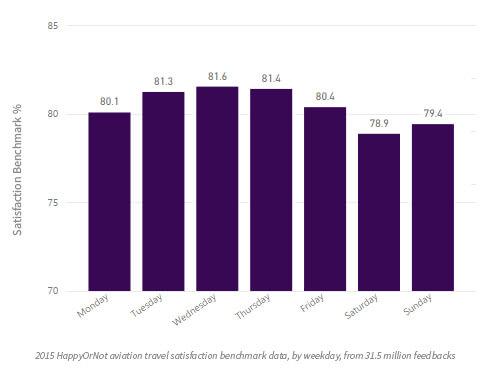 2015 HappyOrNot aviation travel satisfaction benchmark data, by weekday, from 31.5 million feedbacks
The best airports by country, according to passenger satisfaction
HappyOrNot feedback collecting smileys are used at airports in 30 countries. If visiting any of the following destinations, or passing through via connecting flights, you can expect to enjoy some of the highest ranked country airports in passenger satisfaction according to last year's results and based on a minimum of 1000 passenger feedbacks per day:
Sweden
Norway
Fiji
Iceland
Ireland
UK
Spain
Bahrain
Italy
USA
Collectively, the airports in these countries account for over 30 million feedbacks last year alone and measured an average passenger satisfaction of 80.57%. And, yes, the top ranked travel day for these destinations is also Wednesday.
HappyOrNot's data also shows that 2016 is currently maintaining the same list of countries, with only Norway swapping top place with Sweden, and Italy moving up to 6th place.
Placing a strong focus on passenger satisfaction
London Southend Airport, three year running winner of 'Best in Britain' in the Which? airport passenger survey, became a HappyOrNot client in November 2015 to compliment and maintain their fantastic reputation for customer service.
"The experience and satisfaction of our passengers when visiting our airport is very important to us," tells Hannah LoBao, Head of Customer Service of London Southend Airport. "We introduced HappyOrNot into our airport's main touch-points to measure satisfaction levels and identify fluctuations in our performance, and it's been a great asset to us. We've collected over 250,000 feedbacks in just 6 months, and because we can see issues near immediately as they arise, we can react quickly by discussing with staff and coming up with plans to improve."
One example of this quick improvement initiative was in a certain departures area: "We noticed in the results that one particular arrivals area was receiving more negative feedbacks during certain days and at certain hours," says LoBao. "We investigated the matter, and identified that it was during a particular flight schedule where more thorough inspections were required and therefore causing delays. To keep the passengers informed, we arranged that when we expected these delays we communicate to our passengers. Following this small action, we noticed immediate improvements in the satisfaction results during those times."
Southend may be a smaller airport, but it is big in passenger satisfaction. LaBao continues: "We have an 85% satisfaction rating and we continuously work hard to be even better. HappyOrNot is helping us to ensure that we carry out the right actions, and that how we conduct our airport operations is seen positively through our customer's eyes."
The first airport client of HappyOrNot was the largest airport in the UK, Heathrow Airport, in 2012, and to date Heathrow has collected nearly 12 million passenger feedbacks. Today, over 100 airports across the globe have followed suit to measure satisfaction across all main areas of their operations, and combined have collected over 70 million passenger feedbacks.
Whether you're travelling abroad or domestically, your vacation starts and ends with a plane ride.
[clickToTweet tweet="To get the best, most stress-free experience possible this summer, go on a Wednesday!" quote="To make sure you get the best, most stress-free experience possible this summer, go on a Wednesday!" theme="style1″]
---
Contact:
Stephanie Levy, Marketing Communications and PR Manager, +358 50 383 7155, Stephanie.levy@happy-or-not.com
About HappyOrNot
HappyOrNot® is the global leader in instant customer and employee satisfaction reporting. Our innovative feedback collecting smileys and intelligent data analytics reporting service help our clients to improve their customer experience, relationships, and employee engagement. Since 2009, our worldwide data insights have benefited our clients in sectors including retail, traveling and transportation, outsourcing services, healthcare and wellbeing, HoReCa, financial services, and public and governmental services. We serve over 2,500 companies across 90 countries, and have collected and reported on over a quarter billion feedbacks. Visit www.happy-or-not.com to learn more.
Visit www.happy-or-not.com to learn more.