Eurovision makes visitors to Liverpool feel 'Euphoria'!
New data reveals nearly 2/3 of passengers travelling through Liverpool John Lennon Airport feel 'happy' or 'very happy' about Eurovision
To mark Liverpool hosting the 2023 Eurovision Song Contest – the annual international song competition organised by the European Broadcasting Union where representatives of different countries perform in an attempt to be crowned champion – HappyOrNot, makers of the 'smiley face' customer feedback terminals found in airports and retail spaces across the world, is delighted to mark the event with a one-off initiative in Liverpool John Lennon Airport.  
With Liverpool's reputation as a musical hub, home of The Beatles, The Real Thing, Frankie Goes To Hollywood and many more, Liverpool has for a long time attracted music-loving tourists, so Eurovision fans will certainly feel at home. Frequent visitors to Liverpool John Lennon Airport will already be familiar with the HappyOrNot "Smiley" buttons asking travellers for their feedback. But, for the first time, to celebrate Liverpool hosting the much-anticipated event this month, HappyOrNot's Smiley Touch terminals have been specially adapted to ask people passing through the airport how the Eurovision Song Contest makes them feel.  
The terminals asked travellers how Eurovision makes them feel, with those who selected a 'happy' or 'very happy' Smiley (green or dark green) being asked what it makes them happier than, while those who selected a 'sad' or 'very sad' Smiley (pink or red) were asked which of the options made them happier than Eurovision.  
Having collected over 6,000 responses, HappyOrNot can now reveal that visitors to Liverpool Airport certainly don't shed 'Only Teardrops' when they think about Eurovision: 
The Eurovision Song Contest makes 63% of people feel 'very happy' or 'happy'

 
Of those who selected 'happy' or 'very happy', over a quarter – 26% – indicated that Eurovision makes them happier than their own birthday, followed by 24% indicating that it makes them happier than going on vacation and 14% that it makes them happier than payday

 
37% voted that Eurovision makes them feel 'very unhappy' or 'unhappy'

 
Of those who selected 'unhappy' or 'very unhappy', 33% indicated that going on vacation makes them happier than Eurovision, followed by 20% who prefer payday, and 14% who find their birthdays to be a happier occasion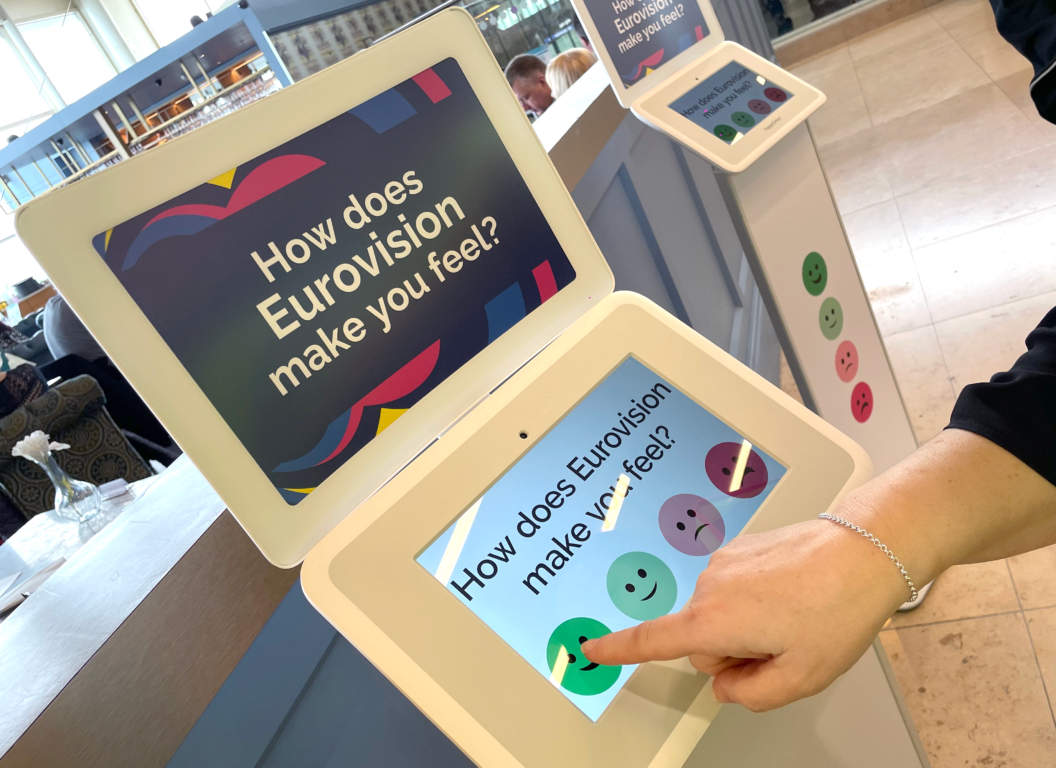 Given the option to write their own feedback, respondents' comments included revelations that Eurovision makes some people so happy they think that it is "Better than everything!!!!!!" and "I love Eurovision with all my heart." Others were slightly less enthusiastic and revealed that they prefer Eurovision to "eating crisps". One respondent added, "Liverpool did a great job hosting!", clearly already impressed with the host city though the event is by no means over. Of those who feel unhappy about Eurovision, respondents' revealed reasons why, including "we never win" and that they prefer "Christmas" or "a good dinner". Even a respondent who isn't a fan still paused to add "Good luck though Liverpool".  
*Data collected from HappyOrNot Smiley Touch terminals within Liverpool John Lennon Airport between 27/4/2023 – 9/5/2023 
Miika Mäkitalo, CEO of HappyOrNot, comments: "With the UK hosting the Eurovision Song Contest for the first time in 25 years, on behalf of last year's winner Ukraine, we are delighted to help Liverpool John Lennon Airport in marking the occasion by adapting our customer feedback terminals. Feedback from our four Smileys usually helps airport staff to give passengers travelling through Liverpool the best possible experience, something that only increases in importance at the time of an influx of visitors for a major event. This time, we are asking something different, how Eurovision makes them feel. With 63% of people pressing our green Smileys to show how much joy the event brings them, showing it feels more like 'Cha Cha Cha' than getting a 'Tattoo', we are happy to join in the celebrations in a city with such a proud place in musical history." 
Robin Tudor, Head of PR and Communications at Liverpool John Lennon Airport comments: "It's a very special time to be in Liverpool, with people from all over Europe and beyond visiting to join in the festivities as the city hosts the Eurovision Song Contest. We've got a proud musical history here, of course almost everybody knows the city as the home of The Beatles (hence the name of our airport). We're always delighted to welcome visitors to the city, but it's especially exciting in line with this event, and we're glad to work with HappyOrNot to share insights into what passengers think about the contest, collected as they passed through our airport." 
About Liverpool John Lennon Airport
Liverpool John Lennon Airport handles over 5 million passengers per year with flights to over 60 destinations in the UK, across Europe and onward worldwide connections. 
It is the award winning Faster, Easier, Friendlier Airport of choice for passengers from across the North West and North Wales and is recognised for its relaxed, hassle free environment and best in class operational performance and one of the UK's best performing airports when it comes to flight punctuality. This is complimented by recent investments to improve passenger facilities and deliver an enhanced customer experience, with positive passenger feedback at an all time high.