Best Day To Go Holiday Shopping in the US Revealed
Americans rate their shopping experience. On which retail holiday did they have the most pleasurable experience?
WEST PALM BEACH, FL (January 15, 2017)
HappyOrNotⓇ, the global leader in instant customer and employee satisfaction reporting, has received over 5.2 million feedbacks in US retail in 2016. The results suggest that out of the key trading holidays, occasions where US retailers have the largest volume of footfall for the year, Veterans Day ranked the highest in customer satisfaction.
Following Veterans day was "Super Saturday," the Saturday before Christmas. According to the annual survey released by the National Retail Federation and Prosper Insights & Analytics, approximately 66% of Americans, or 155.7 million people, were planning to or considering taking advantage of Super Saturday sales to complete their last year's holiday gift list.
2016 Holidays Included in the Study (ranked from highest to lowest in shopper satisfaction):
1. Veterans Day, Friday, November 11
2. Super Saturday, December 17
3. Memorial Day, Monday, May 30
4. Martin Luther King Day, Monday, January 18
5. Black Friday, November 25
6. Independence Day, Monday, July 4
7. Labor Day/Back to School, Monday, September 5
8. New Year's Day Friday, January 1
The Good
Each year, Veterans Day is celebrated on November 11. Last year, the holiday landed on a Friday, two weeks before one of the the biggest day of revenue for retailers – Black Friday. While there were one-day sales, many offers continued throughout the weekend, November 12-13. The holiday gave shoppers a good reason to make an early dent in their holiday gift list, and many had a positive experience doing so.
The Bad
When it came to customer satisfaction, 2016 was off to a bad start as New Year's Day ranked the lowest in the list. "Seasonal promotions draw big crowds on days where shoppers are likely out of school or have a day off from work but turning a shopper into a new or repeat customer requires more in all aspects of a retail operation," Co-founder and Chief Executive Officer of HappyOrNot, Heikki Väänänen said. "Planning adequate work-shifts, ensuring sufficient product stock is available, and placing added focus on staff motivation and support are a few ways to having happier shoppers which in turn boosts sales."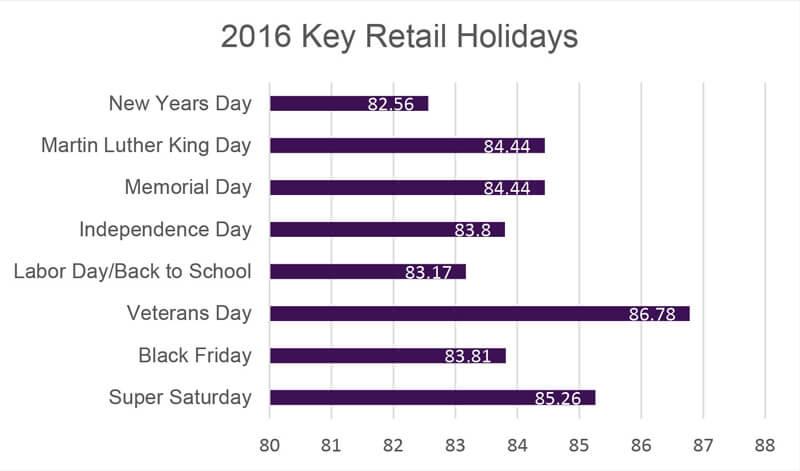 The Ugly
According to HappyOrNot's global data insights, consisting of over five million shopper feedbacks in 2016 across the nation, the average retail satisfaction level benchmark was 85.28%. This means, that of all the key trading holidays, the only one that performed above the benchmark was Veterans Day. Super Saturday missed it by a slight margin. "Every day is a chance to win customers. Tracking and understanding shopper trends, reviewing lessons learned from previous years and carrying out an action plan of 'must do's' can be the winning difference for retailers for the new year," Väänänen said.
For the latest HappyOrNot Retail Insight and Benchmark, visit: happy-or-not.com/retail
For an in-person demonstration, visit us at the 2017 NRF "Big Show" Expo in Booth 2337. | nrfbigshow.nrf.com
Contact HappyOrNot Americas Inc.
Johnelee Dizon, Marketing Director, 305-469-2785, johnelee.dizon@happy-or-not.com
Sofia Sapojnikova, Marketing and Communications Manager, 561-570-0292, sofia.sapojnikova@happy-or-not.com
---
About HappyOrNot
HappyOrNot® is the global leader in instant customer and employee satisfaction reporting. Our innovative feedback collecting smileys and intelligent data analytics reporting service help our clients to improve their customer experience, relationships, and employee engagement. We serve over 2,500 companies across 98 countries and have collected and reported on over a quarter billion feedbacks.
For more information, visit: www.happy-or-not.
—