Stop missing out on high-value transactions and upsell opportunities at your electronics store with
HappyOrNot
Our instant feedback terminals provide electronics and appliance retailers with valuable insights into their customers' shopping experiences, allowing them to optimize their staff interactions, product selection, and stock availability to increase transaction value and upsell potential.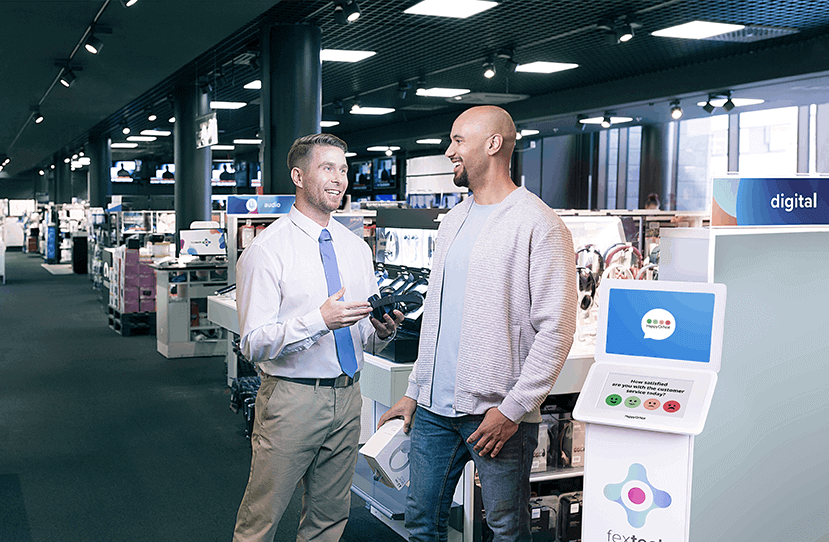 The ultimate feedback solution for electronics and appliance retailers
HappyOrNot offers the most comprehensive and user-friendly feedback solution on the market. Our instant feedback terminals allow customers to provide feedback in seconds, while our insightful analytics provide electronics retailers with detailed information on their customers' shopping experiences.
With our collaboration capabilities and expert support, electronics retailers can easily share results with their teams, empower sales, and make informed decisions on improving their customer service through better labor allocation, staff expertise, upselling of related products or services, and understanding gaps in customer experience.
of buyers are willing to pay more for a great customer experience
of retail customers expect companies will be able to accommodate preferences and expectations
of consumers say they're highly likely to purchase exclusively from brands that understand them and their needs
HappyOrNot feedback solution for electronics and appliance retailers
With HappyOrNot's easy-to-use instant feedback terminals, you can quickly and accurately measure customer satisfaction levels in your store to optimize their stock availability and provide relevant staff training to address customer expectations.
How It Works

1
Install
Place the Smiley Touch™ terminals in strategic locations of your store.

2
Collect
Collect feedback at the moment of engagement throughout your customer's journey.

3
Analyze
Analyze the data to gain valuable insights into customer needs and preferences.

4
Optimize
Optimize your operations to enhance the customer experience and increase sales margins.
Trusted by leading electronics and appliance retailers
HappyOrNot has helped over 4000 brands worldwide, including many electronics and appliance retailers, to improve their customer service and increase sales. Our solutions have been proven to be effective in enhancing the customer experience and allowing retailers to make informed decisions on how to improve their customer service.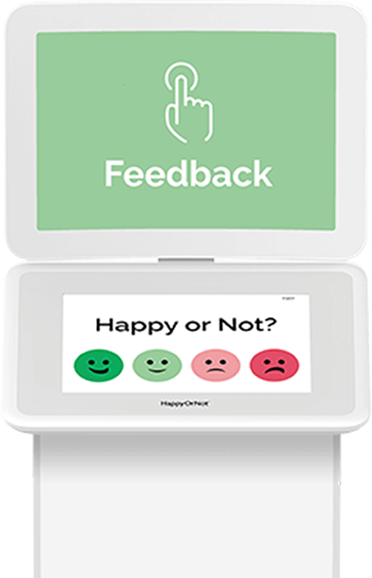 The importance of collecting feedback for the electronics and appliances industry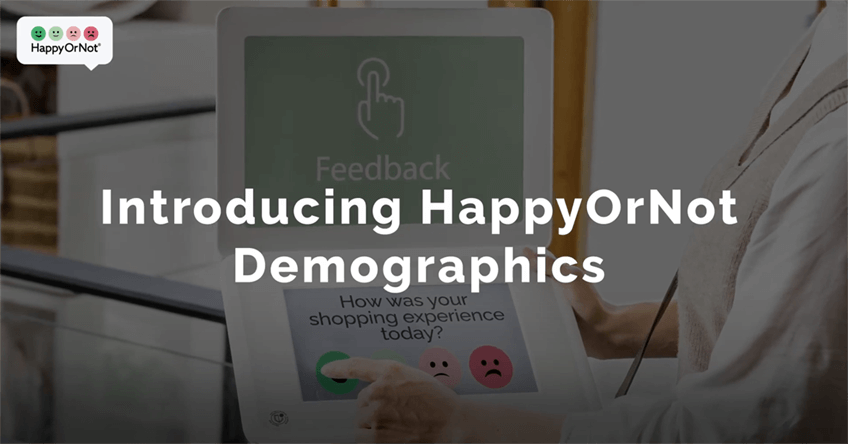 Collecting customer feedback is essential for businesses in the electronics and appliances industry. Customers have high expectations when it comes to electronics and appliances, and businesses must understand their needs and preferences to make informed business decisions that cater to long-term success. By collecting feedback, you can:
Increase the likelihood of successful sales and ability to close the purchase
Upsell through upgrades and additional related products and services
Optimize resourcing and product selection according to busy times and consumer needs
Ensure that your staff delivers professional and expert advice to secure purchases
What our customers say about HappyOrNot
See some of the testimonials from our happy customers in the electronics and appliance retailing industry to see how HappyOrNot has helped them better understand customer feedback, its root causes, and find solutions for improving their customer experience.
Try our HappyOrNot solution today
Ready to improve your sales and customer satisfaction? Try HappyOrNot's instant feedback terminals today and see the results for yourself.