Upgrade


Your Apparel Business with HappyOrNot®
With HappyOrNot®'s instant feedback terminals and analytics, you can optimize your staff resources, improve the customer experience,
increase the number of high-value transactions, and attract more customers to come back.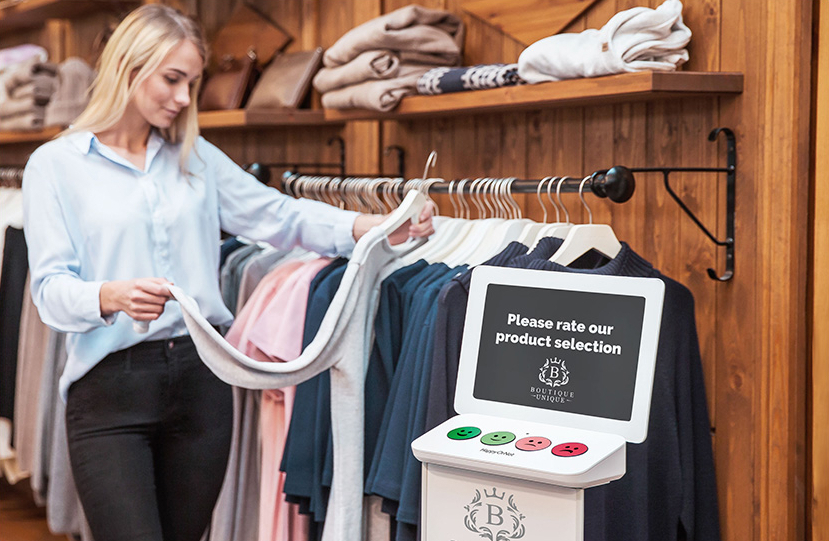 HappyOrNot® is the Perfect Fit
For Your Apparel Business
HappyOrNot® is the leading customer feedback and experience management solution
for apparel businesses. Our instant feedback terminals provide real-time data that helps
you optimize staff resources, improve the customer experience, and increase sales. With
HappyOrNot®, you get:
Insightful analytics that identify bottlenecks and solutions.
Ability to connect feedback with time, place, and reason for feedback.
Good sharing and collaboration capabilities.
Support and onboarding services to help you get the most out of HappyOrNot®.
of consumers say that a brand's ability to provide them with a personalized experience directly impacted how much money they're willing to spend.
xpect companies to understand their needs and expectations.
of customers will stop shopping in a store due to inconsistent experiences.
HappyOrNot® Solutions for Apparel Businesses
HappyOrNot®'s solutions can be seamlessly integrated into your customer service formula in
your apparel business. Our instant feedback terminals can be installed in high-traffic areas and
provide customers with a quick and easy way to give feedback.
How It Works
1
Install
Place the Smiley Touch™ terminals in strategic locations of your store.
2
Collect
Customers press the smiley faces on the terminal to give feedback
3
Analyze
Insightful analytics help you identify areas for improvement
4
Optimize
Take data-driven actions to improve staff resources and the customer experience
HappyOrNot® Helps Over 4000 Brands Improve Their Apparel Business
HappyOrNot® has helped over 4000 brands across various industries, including clothing and clothing accessories, shoe retailers, jewelry retailers, and luggage and leather goods retailers.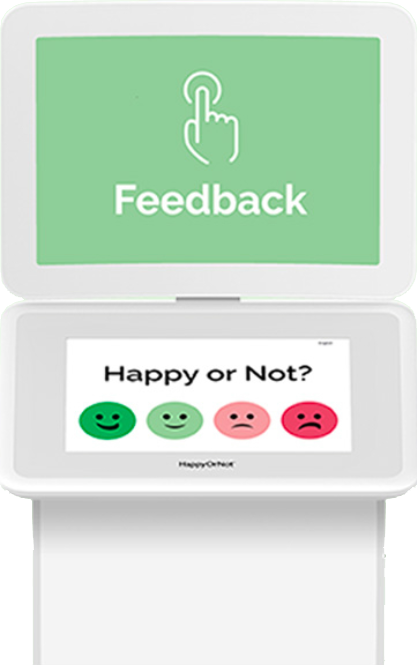 Connect Customer Feedback to your Target Audience with
HappyOrNot® Demographics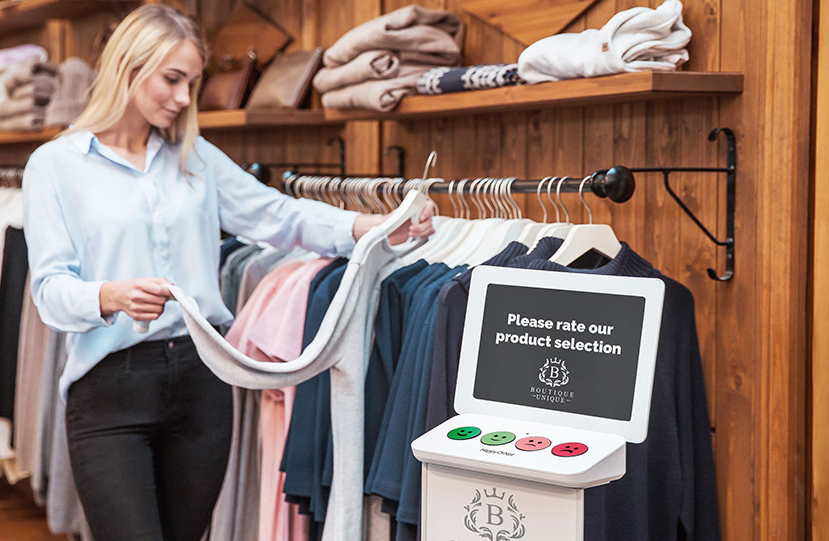 Using Al-powered technology, our touchscreen Smiley
Touch terminal has been upgraded to allow businesses
to unlock valuable customer demographic information
and combine it with in-moment feedback data for
unprecedented insights.
With Demographics you will be able to understand
whether your assortment and service really resonate
with your target audience. In addition to the ability to
focus on feedback from your key target audience, you
might also discover hidden opportunities.
By combining demographic data with customer
satisfaction data, retailers can create a more detailed
and nuanced picture of their customers and use this
information to make informed business decisions.
Fashionable Customer Service Means More Revenue
Our solutions have helped numerous apparel businesses increase customer satisfaction and
loyalty. But don't take our word for it – see what some of our apparel industry clients have to say.
Try HappyOrNot® For Your Apparel Store Today
Unhappy customers are so last season. Don't let your apparel
business fall behind the competition. Try HappyOrNot®'s solu-
tions today and optimize your staff resources, improve the
customer experience, and increase sales.